Features:

Safe And Efficient Valve Removal And Installation: This toolset is used to easily and safely compress valve springs for removal or installation. The set includes 5 collet sizes for correct and safe fit with almost any automotive or small engine valve spring and cylinder head. Everything needed to remove or install valve springs is contained in the set, including the wide C-Clamp, Pusher, and extension screws.
Solid And Durable Construction: The forged steel construction of this set provides superior strength and hardness. The C-Clamp will not bend or twist under the stress of compressing valve springs. The oxide finish on the set components resists rust and corrosion. The surface finish of each part is smooth and provides for easy use under high compression.
Simple Operation: Close the coil spring compressor until touching the center rod, and insert the compressor into the coil spring. Compress the spring for removal or installation and only release compression when the spring is set for installation. Compressed springs contain significant stored energy and must be carefully handled and decompressed.
Easy Storage And Transport: This toolset comes packaged in a high-impact case that holds each part securely. The parts will remain organized and safe while stored or in transport, and the case stacks and stores away conveniently.
Satisfaction Guaranteed: If any component of the toolset is defective, the manufacturer will exchange the product or accept a return. Orion Motor Tech's outstanding customer service team will reply to any service request within 24 business hours.

Orion Motor Tech Solid Valve Spring Compressor Set 10 PCS
Fits Cars, Trucks, Motorcycles, ATVs, & More
All Included: This kit includes everything you need for fast & effective compression of solid valve springs.

Wide Compatibility: The wide C-clamp, extension rods, & adapters work with almost all automotive, motorcycle, quad, and other small engines.

Simple Operation: The detailed parts diagram and step-by-step instructions guide novices for smooth valve installation and removal.

Superior Compressor: Our C-clamp is made of heat-treated 45# steel for solid and sturdy performance.

Ball Lock Design: The steel ball locks on the extension rods offer easy secure connections.

Fine Threading: The rods' fine threading is carefully engineered to take pressure evenly and give you years of use.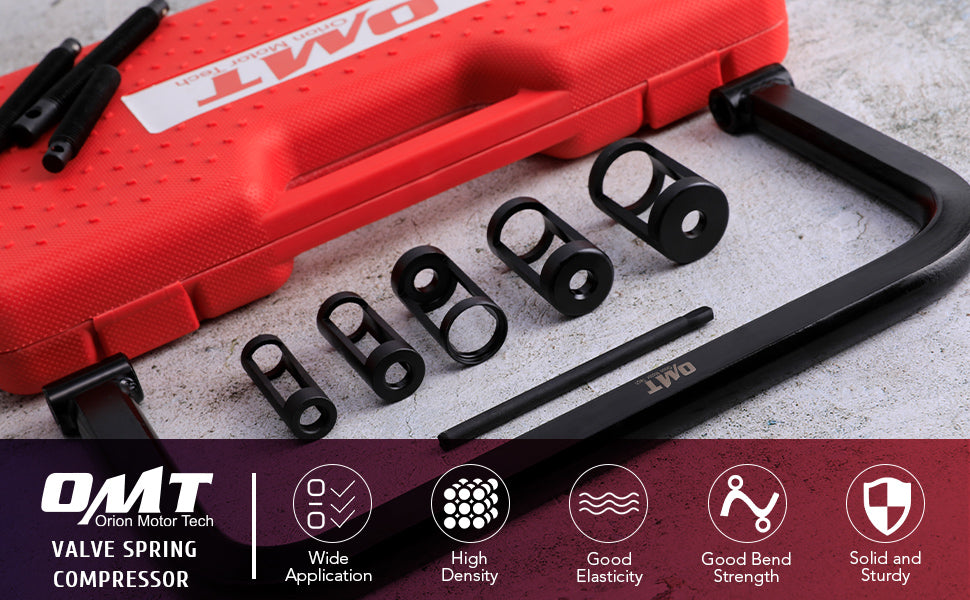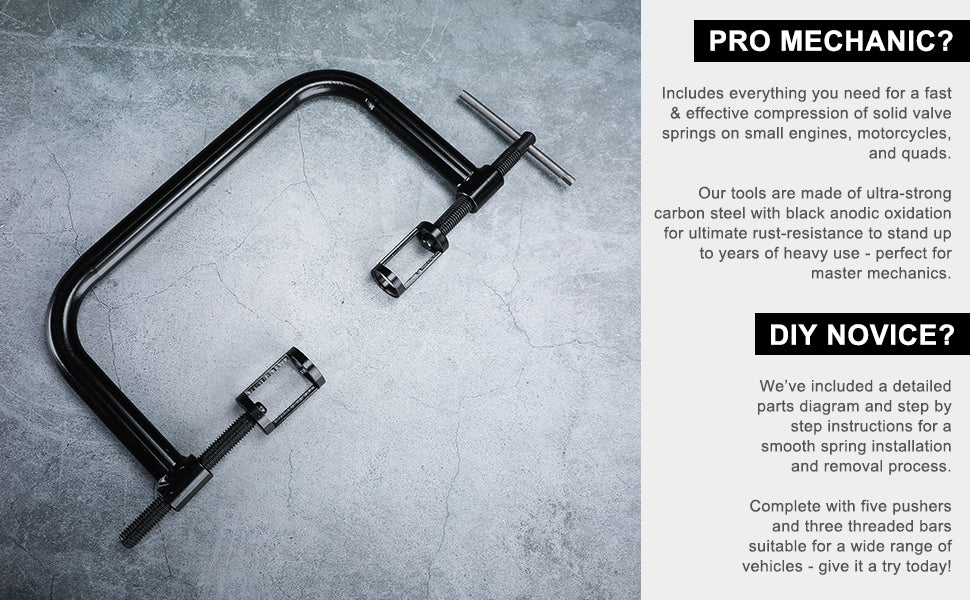 | | | |
| --- | --- | --- |
| The extension rods include integrated ball locks to connect the pushers firmly and securely. | The rods' fine threading is carefully engineered to take pressure evenly, while our high-density carbon steel prevents wear. | Our tools are made of heat-treated carbon steel with black anodic oxidation for ultimate strength and corrosion resistance, standing up to years of heavy use and perfect for master mechanics. |
Customer Reviews
Rzr work.
Good thanks, it help me a lot.