Features:
Fitment: The passenger side sun visor is compatible with 2007, 2008, 2009, 2010, 2011 Toyota Camrys, Camry LEs, Camry SEs, and Camry Hybrids with sunroof.
Replaces Part #74310-06770-B0. This aftermarket direct sun visor replacement is nearly identical to the original, made with the same quality and from the same materials.
Built-in Mirror: Includes the original part's attractive visor mirror with sliding cover.
Installs Easily: The old one pops out, the new one pops in. Installation takes less than a minute, but the quality lets you enjoy your new visor for years.
Durable: Made of high-quality material, this sun visor is heat-resisting and anti-corrosion, ensuring the long service life.

This passenger side sun visor is superior to other replacement products, perfectly recreating the original visor's functionality and elegance.
Top quality ABS and plush fabric provide durability, resistant to impact, wear, stains.

Hidden double-seam stitching maintains the original's elegance and long service life.

Perfect replacement of 74310-06770-B0, down to the rotatable rod and the French and English warning stickers.

If this is your first replacement, the visor's manual guides you through every step. You'll be done in a snap.
| | | |
| --- | --- | --- |
| The metal and ABS brackets detach easily for cleaning or replacement. Safe ABS plastic withstands impact, humidity, and wear. | The ABS inner cover protects the rotary axis from damage. The outer cover is carefully hand-stitched for long service time and quiet elegance. | Just like the OEM part, our soft plush fabric is stronger than it seems: high-temperature treatment lets it fight deformation, wrinkles, wear. Stain-resistant, it's also easy to clean. |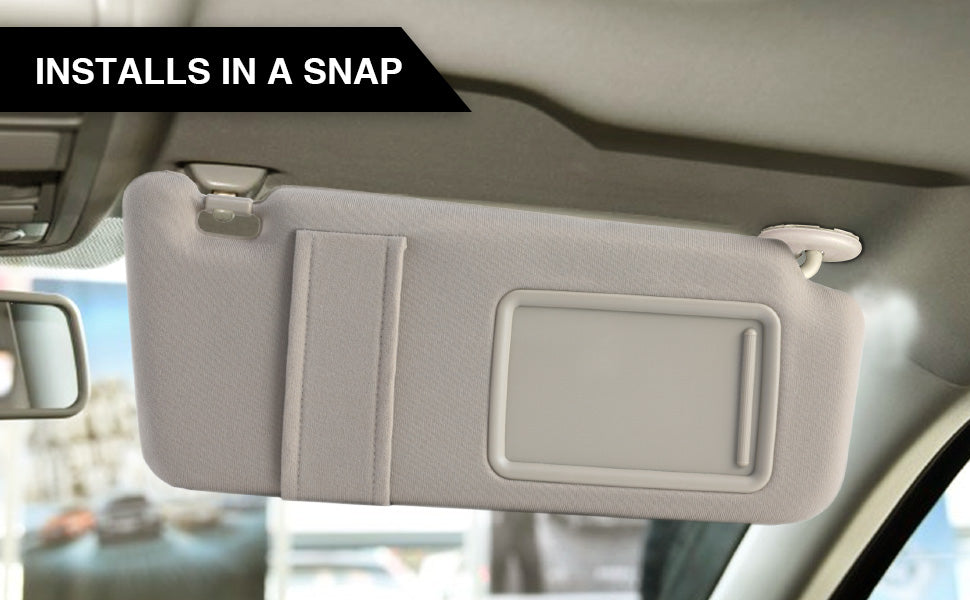 Specifications
Material: Polypropylene, Metal, Glass, Plush Fabric

Package Dimensions: 16 x 7 x 1.8 Inch (41x18x4.5 cm)

Product Dimensions: 15.4 x 6.3 x 1 In. (39x16x2.5 cm)

Gross Weight: 1.39 lb. (0.63 kg)

Color: Gray

Warranty: 1 Year
Fitment
2006 Toyota Camry with Sunroof

2007 Toyota Camry with Sunroof

2007 Toyota Camry LE with Sunroof

2007 Toyota Camry SE with Sunroof

2007 Toyota Camry Hybrid with Sunroof

2008 Toyota Camry with Sunroof

2008 Toyota Camry LE with Sunroof

2008 Toyota Camry SE with Sunroof

2008 Toyota Camry Hybrid with Sunroof

2009 Toyota Camry with Sunroof

2009 Toyota Camry LE with Sunroof

2009 Toyota Camry SE with Sunroof

2009 Toyota Camry Hybrid with Sunroof

2010 Toyota Camry with Sunroof

2010 Toyota Camry LE with Sunroof

2010 Toyota Camry SE with Sunroof

2010 Toyota Camry Hybrid with Sunroof

2011 Toyota Camry with Sunroof

2011 Toyota Camry LE with Sunroof

2011 Toyota Camry SE with Sunroof

2011 Toyota Camry Hybrid with Sunroof

OE Part Number: 74310-06770-B0
Placement on Vehicle: Passenger Side (Right)
Package List
1

×

Car Sun Visor with Lighting (Right)

1

×

Installation Instructions