Fits A/C manifold gauge sets (R-134A), coupler interface fits with R134A service ports, 1/4" male flare

Adjustable coupler (6-ball style) is compatible with all models

Accurate snap lock & knurled grip ring for easy operation, detachable adapter for longer maintenance

Aluminum switch, bronze ACME adapter, and nickel-plated bronze body

Method of Use: Connect bottoms with vehicle's R134A service port; connect the ACME adapter with the refrigerant hose; turn on/off the switch at the top to turn it on/off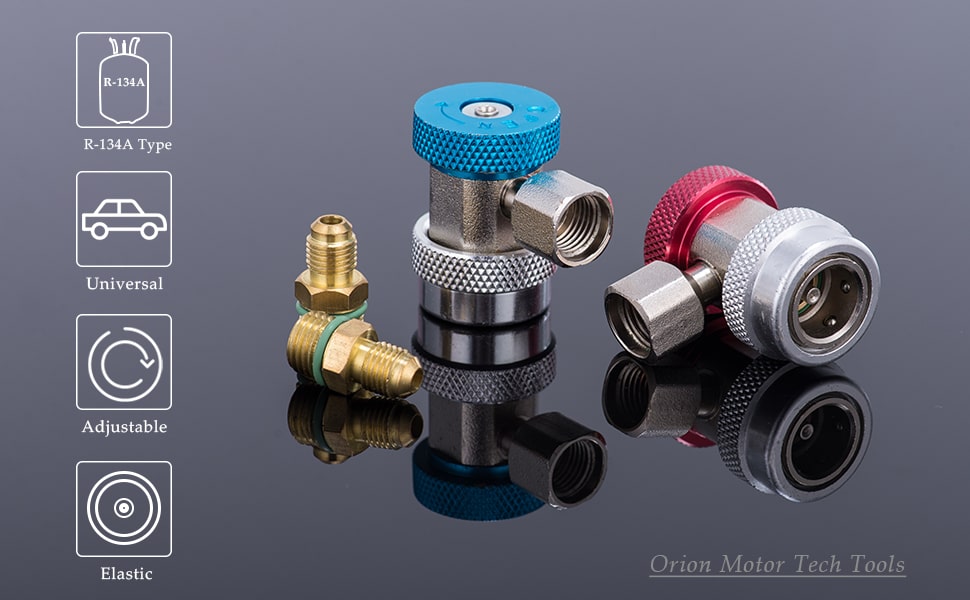 Automotive Quick Coupler Adapter
 


Premium quality: aluminum construction for the Blue & Red Switch; nickel plated bronze for the body; bronze construction for the ACME adapter.

 


 


Constructed with accurate snap lock and knurled grip ring; offers easy operation and great performance; detachable copper adapter for easy replacement.

 


 


Unlike other products which only fit European models, this push-able adjustable coupler (5-ball style for complete seal) provides universal compatibility for all manufacturers and models.

 

Automotive Quick Coupler Adapter
 


In addition, the adjustable (rotate to adjust) coupler interface fits with R134A service ports.

 


 


Copper 1/4" male flare is included for your convenience.

Perfect A/C manifold gauge set for your car.

 


 


Dimension:

A - Min Height: 1-3/4 inches

B - Max Height: 2 inches

C - Knurling's Dia: 1-1/4 inches

D - Overall Width: 1-7/8 inches

E - Single Coupler Weight: 0.32 lbs

F - Single Adapter Weight: 0.04 lbs