Features:
The actuators are small electric motors that move the vent doors, mixing hot air with cold air to achieve the temperature that you desire. Most vehicles have two blend door actuators, one on the driver side and one on the passenger side.
This blend door or air door actuator features a redesigned housing to ensure it lasts longer than the factory blend door on your Chevy. It also features a more rugged internal circuit board that resists heat, corrosion, and vibration.
Direct replacement for OE parts: 15232218, 20826182, 25782069, 604-140 with no need for adjustment or calibration. Surpassing OE standard and rigorously tested for perfect fit, form, and function.
Fits the following vehicles: 2008-2016 Buick Enclave, 2009-2016 Chevrolet Traverse, 2007-2016 GMC Acadia, 2007-2010 Saturn Outlook
With a 1-year warranty and quick and comprehensive after-sale service, we guarantee you a life-long satisfaction with our product that is unparalleled among our competitors.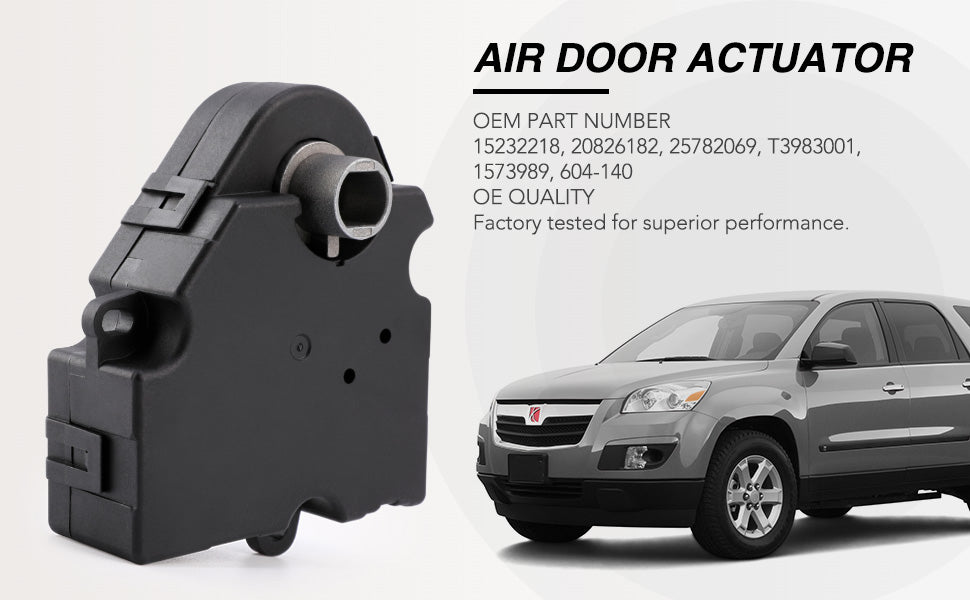 Orion Motor Tech Air Door Actuator
Off-road weekend warriors, novices, and professional mechanics trust the Orion product because Orion Motor Tech sources the highest quality components from around the world. The HVAC heater blend door actuator controls the flow of air into the interior of the vehicle (lower vents, dash vents, defroster). This part commonly fails on GMC Acadia and Buick Enclave models and results in inconsistent or incorrect airflow inside the vehicle. It can also cause air to be directed to the incorrect location such as the vents by your feet rather than the vents on the dash or incorrect temperatures. Sometimes called the air heater blend door, this part is an essential part of your Chevy's air conditioner system.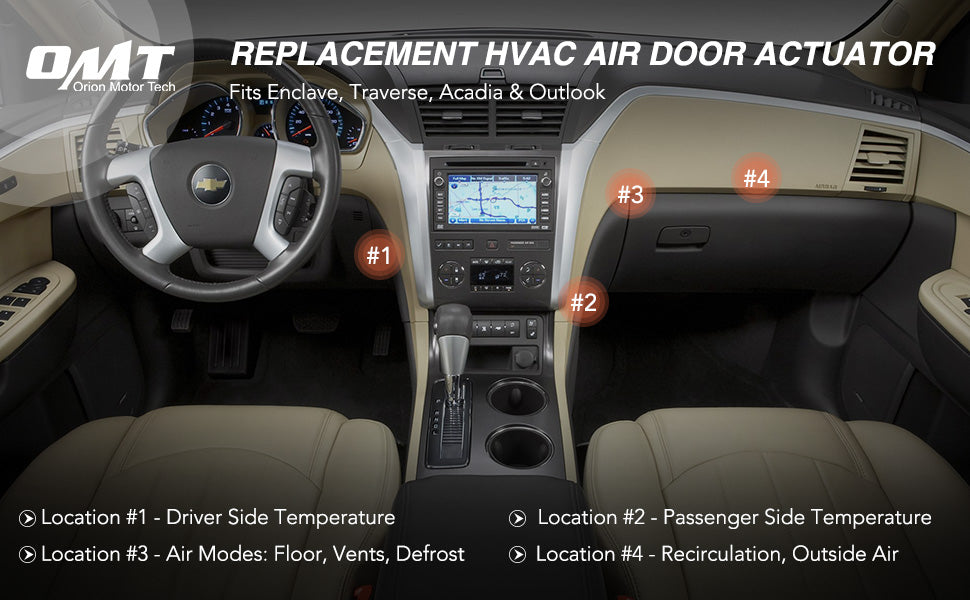 FITS THE FOLLOWING VEHICLES
2007 2008 2009 2010 Saturn Outlook

2007 2008 2009 2010 2011 2012 2013 GMC Acadia

2008 2009 2010 2011 2012 2013 Buick Enclave

2009 2010 2011 2012 2013 Chevy Traverse
Concerned about a stressful set up process?

A direct OE replacement for the genuine GM part, our blend door actuator is easy to install whether you're a professional mechanic or a DIY novice.

Want long-term superior performance out of your HVAC Blend Control Actuator?

Manufactured with corrosion-resistant materials to withstand internal vent condensation and outlast other HVAC blend door actuators.

Worried about the circuit board's longevity?

Our blend door actuator features a rugged internal circuit board that resists heat, corrosion, vibration, and burnout for long-term dependability.
SPECIFICATION
| | |
| --- | --- |
| Connector Color | Black |
| Terminal Type | PIN |
| Terminal Quantity | 5 |
| Terminal Gender | Male |
| Mount Hole Quantity | 3 |