Ball Joint Service Adapter Kit Features
FUNCTION: Use C-Clamp(Not included) with ball joint press service kits to remove and install upper and lower ball joints and offset ball joints for the caster/camber.

FITMENT: This 4 PCS Ball Joint Removal and Install tool set is compatible with Jeep and Dodge: 1984-newer Jeep Wagoneer, Cherokee, Comanche; 1987-newer Jeep Wrangler; 1990-newer Jeep Renegade, 1993-newer Jeep Grand Cherokee; and 1994-newer Dodge Ram ½-ton 4WD Pickup.

SPECIFICATIONS: Adapter (2-1/8"O.D x 1-3/4"I.D x 1/2"L);Adapter (1-7/16"O.D x 3/4"I.D x 1"L);Adapter (2"O.D x 1-3/4"I.D x 2-5/16"L);Adapter (2-7/16"O.D x 2-3/16"I.D x 3-3/16"L)

ADVANCED MATERIAL: Made with electrophoresis and ASTM 1045 Steel equivalent with extra toughness, wear resistance

EASY INSTALL INSTRUCTIONS: Includes detailed user manual instructions to help you remove and install ball joints without the struggle! Our 24/7 professional customer service team is here to help answer any questions.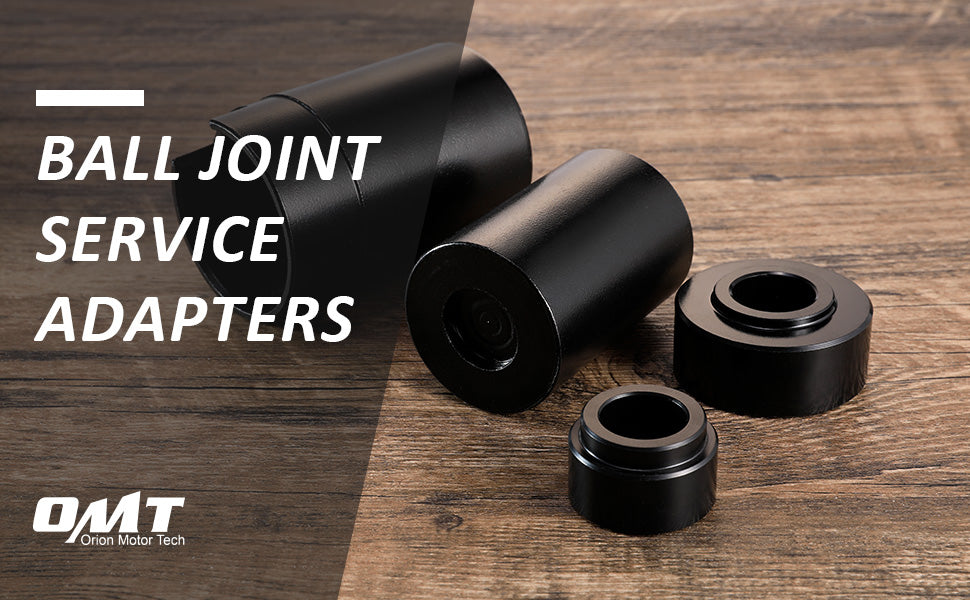 OMT's service adaptors enable easy removal and installation for the specific ball joints. The ball joint is a critical piece of your Truck or SUV's steering and suspension systems. Driving with faulty or worn-out ball joints can lead to further damage to the suspension and steering column, our toolset can help you better disassembly the bad ball joints and install the good one.
| | | | |
| --- | --- | --- | --- |
| Installer (2-1/8" O.D x 1-3/4"I.D x 1/2" L) | Installer Cup (2" O.D x 1-3/4"I.D x 2-5/16" L) | Remover (1-7/16" O.D x 3/4"I.D x 1" L) | Remover Cup (2-7/16" O.D x 2-3/16"I.D x 3-3/16" L) |