Portable Spray Booth Features

Inflatable Garage & Paintshop:

 

Orion Motor Tech's 23x13x11 ft. 

high quality

inflatable portable spray booth is ready wherever you need it, inflating within 3 minutes thanks to the provided 1100W air pump; it includes a spacious work area for auto repair, detailing, display, and more as well as a smaller windowless changing room that can double as on-site storage.
Safe & Durable:

 

Made of Oxford fabric and PVC, our portable blow up paint booth balances strength and portability, providing mobile wearproof and waterproof performance while remaining easy to clean; the metal buckles at the bottom of the booth can be fixed with nails or the 6 provided sand bags to keep everything steady even on windy days.
Air Filtration System:

 

The included 350W electric blower circulates air through our powerful multilayer glass fiber and activated carbon filtration system to clear out dirt and dust as you work.
User-Friendly Design:

 

This inflatable portable car paint tent includes two doors; the larger detaches to bring in your car or truck or unzips to allow people to enter and exit easily; the back door offers a shortcut for changing and fetching tools; three skylights pour in natural light and 8 hoops allow mounting lamps for night work.
Satisfaction Guaranteed:

 

OMT backs this portable paint booth and garage with our usual strong warranty and friendly 24/7 customer service, ensuring that you'll enjoy its use for years to come.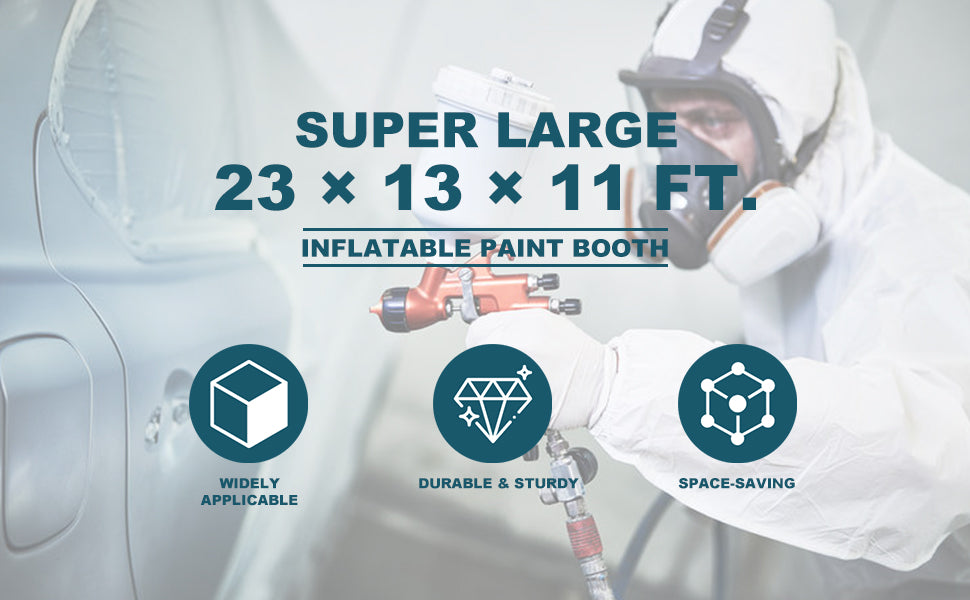 This is a portable spray booth, suitable for any small size car, truck or SUV. It provides a clean working environment via filters and 2pcs CE/UL blowers, ideal for mobile painting, outdoor camping, product display, tourism, business demonstration, etc. It inflates and deflates within 3-5 minutes, which saves time and effort.
Inflatable Spray Paint Tent Advanced Features

Air Filter

The large multilayered filters clear dirt and dust from the air circulating in the inflatable booth, keeping it fresh and safe as you work.

Better Sealing

Zipper and velcro seals provide access but work together to provide secure closure for inflation. Make sure both are fully closed before use.

Power Blowers Included

Two power blowers are provided: The 750W inflates the booth while the 350W circulates air through the booth and its filters.
Double-Sided Zippers

Specially designed double-sided zippers are embedded in the booth for smoother pull and to provide powerful sealing performance.

Reinforced D-Rings

The reinforced metal D-rings at the bottom of the booth can be fixed with nails or weights to anchor the booth. 6 sand bags are also provided to help steady everything on windy days.

Lamp Mounting Hoops

Eight hoops are provided for mounting lamps inside the booth, making work possible even in poor lighting conditions and at night.
Attentions
DON'T USE IN BAD WEATHERS: Thunderstorm, rainy, strong windy, snowy weather.

Avoid sharp items and tree branches when using this paint spray booth.

Be sure to open the vent cover when starting painting. If the cover is not opened, booth may be torn due to high pressure.

The spray tent has a hook for a lamp on top. Use power to prevent leakage in booth.

Please be careful not to touch the cloth when using booth heating tools.

The blowers should keep on when the booth is working.
Specifications
Material: 210D Oxford Fabric, 0.5 mm PVC
Color: Blue
Inflation Blower Power: 1100W
Ventilation Blower Power: 350W
Dimensions (Fully Inflated): 23 x 13 x 11 ft. (7x4x3.3 m)
Net Weight: 77.2 lb. (35 kg)
Warranty: 1 Year
Package List
1 x Inflatable Portable Paint Booth

1 x 1100W Electric Air Blower
1 x 350W Electric Air Blower
1 x Repair Material Pack
6 x Cords
6 x Hooks
6 x Empty Sandbags
1 x Instructions