Features:

Replace the worn-out Rear Drive Shaft on the steering wheel on your Porsche Cayenne and VW Touareg (check detailed compatibilities in the description)

OEM standard and finish, direct replace factory part 95542102013, 95542102012, 95542102011, 95542102014, 95542102015​, ​7L0521102N, 7L5521102C, 7L6521102G, 7L6521102J, 7L6521102M, 7L6521102P, 7L0521102G, 7L0521102F, 7L0521102D, 7L0521102B, 7L0521102H, 7L0521102M for a proper fit every time.

This part has undergone a rigorous inspection to ensure high quality, durable, and reliable under extreme conditions.

You will get a complete rear drive-shaft with a center clamping bearing assembly, no instructions & easy to install.

ORION MOTOR TECH offer - 5 Years Warranty - and full money-back guarantee. If you are not satisfied with this product or if you have any questions, please feel free to contact us. We would like to issue a full refund if finally we could not resolve your problem or you are not satisfied with the result.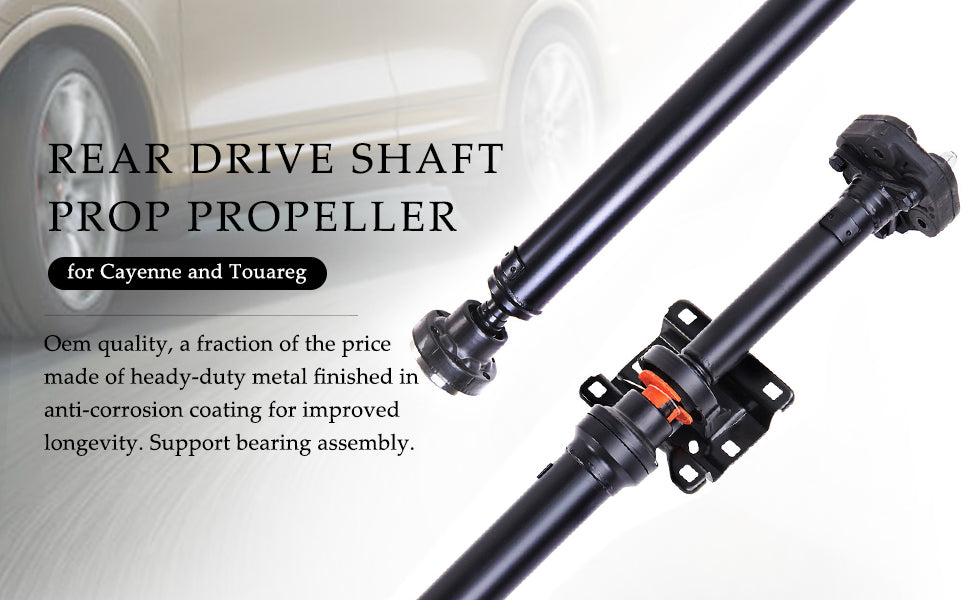 Specifications:
Item Name: Drive Shaft

Fitting Position: Rear

Surface Finish: Polished

Package Size: 52 x 7 x 9 in.

Weight: 30 pounds

Multi-piece: Two-piece

Supplementary Article/Info 2: with holding frame

Total Length: 1246 mm

Bolt Hole Circle Ø 1: 110 mm

Bore Ø 1: 12.15 mm

No. of holes 1: 6

Bolt Hole Circle Ø 2: 86 mm

Bore Ø 2: 10.2 mm

No. of holes 2: 6

Pipe Ø: 70 mm

Outer diameter 1: 151 mm

Outer diameter 2: 99.47 mm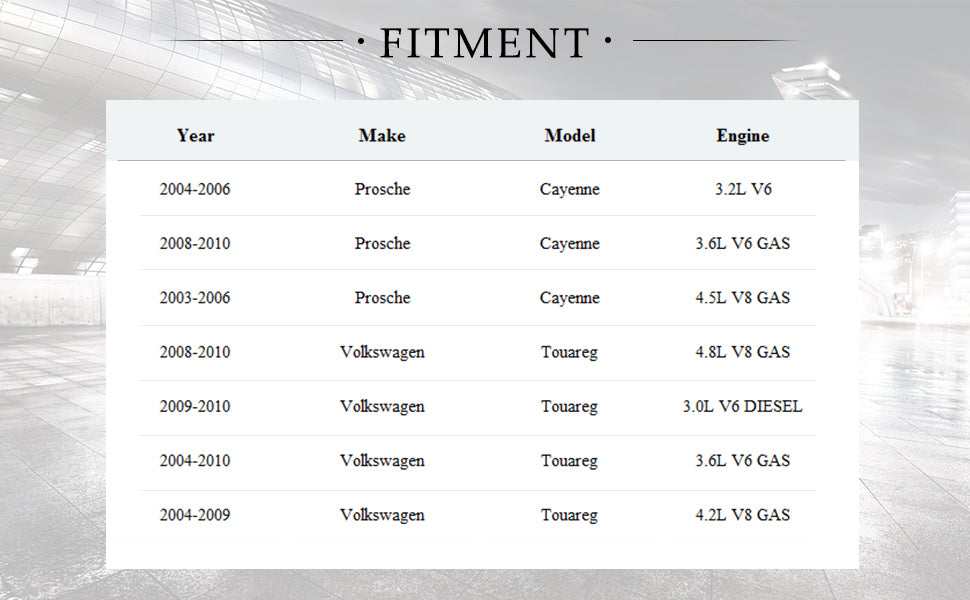 OEM Part Number: 
-- Prosche Cayenne --

955.421.020.13,  955.421.020.12,  955.421.020.11,  955.421.020.14,  955.421.020.15​

-- Volkswagen Touareg --

​7L0521102N,  7L5521102C,  7L6521102G,  7L6521102J,  7L6521102M,  7L6521102P

7L0521102G,  7L0521102F,  7L0521102D,  7L0521102B,  7L0521102H,  7L0521102M
​Fitment:
NOTE:

 

Fitting Position: Rear - - Type: Closed Off-Road Vehicle 

-- Prosche Cayenne --

2002/09 - 2007/09 Porsche Cayenne (955) Turbo 4.5 - M 48.50

2002/09 - 2007/09 Porsche Cayenne (955) S 4.5 - M 48.00

2009/02 - 2010/09 Porsche Cayenne (955) 3.0 TDI - M 05.9D

-- Volkswagen Touareg --

2002/10 - 2006/11 VW Touareg (7LA, 7L6, 7L7) 3.2 V6 - BRJ

2002/12 - 2006/11 VW Touareg (7LA, 7L6, 7L7) 4.2 V8 - BHX

2004/11 - 2006/11 VW Touareg (7LA, 7L6, 7L7) 3.2 V6 - BMV

2004/11 - 2010/05 VW Touareg (7LA, 7L6, 7L7) 3.0 V6 TDI - CATA

2004/08 - 2010/05 VW Touareg (7LA, 7L6, 7L7) 6.0 W12 - CFRA

2005/10 - 2010/05 VW Touareg (7LA, 7L6, 7L7) 3.6 V6 FSI - BHL

2006/06 - 2010/05 VW Touareg (7LA, 7L6, 7L7) 4.2 V8 FSI - BAR

2007/11 - 2010/05 VW Touareg (7LA, 7L6, 7L7) 3.0 V6 TDI - CASC