Features:

ALL-IN-ONE KIT _____ Everything you need for a fast & effective compression pressure testing of petrol/ gas/ fuel engine cylinder on most spark plug types/ depths vehicles motorcycles marines ATVs UTVs snowmobiles boats & more

UNIVERSAL COMPATIBILITY _____ Compatible with a wide number of vehicles includes multi-size adapters (straight + curved + male fittings); comes with a premium well-organized ABS box for easy storage and transport

STURDY & ANTI-RUST _____ Dual unit (0-300 psi, 0-21 kg/cm²) with easy to read instrument panel, resin watch cover lightweight and anti-scratch, rubber cover for outstanding shock-absorption performance

You will get: 1x spring buckle gauge __ 1x straight rubber cone ends adapter ___ 1x curved rubber cone ends adapter ___ 4x brass adapter with metric M10 M12 M14 M18 male fitting and o-ring ___ 1x extension hose (14" length)

8 pc. Gas Engine Cylinder Compression Tester Kit
Lightweight gauge with shock-absorbant rubber cover, anti-scratch acrylic window, and easy-to-read dual-scale dial

Straight, curved, and male adapters to fit most gas engines in motorbikes, cars, and trucks worldwide

Rubber-cone adapters for quick measurement without any need for threading

Precision-engineered threading for tight seals and a long service life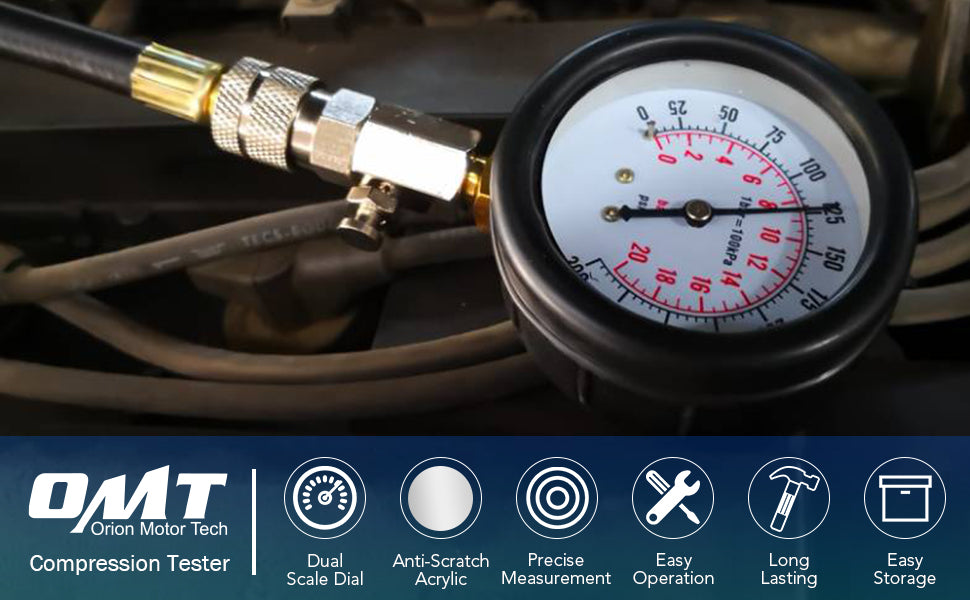 The kit includes 2 rubber cone adapters which allow for quick and convenient measurement without any need for threading.




Just push to automatically couple the gauge with your line, sealing tightly and easily, saving you time to focus on the job at hand.




Each adapter's threading has been precision engineered to give you tight seals and a long leakage-free service life, saving you time and money.