Features:
REQUISITE TOOL SET, assist in the brake pads replacement on your car, truck or 4-wheel drive disc brake vehicle and replace brake pads and rotate pistons back into the caliper when installing new brake shoes and pads, providing both right-handed and left-handed thrust bolt assemblies for easier job.
UNIVERSAL COMPATIBILITY, this multi disc brake caliper wind back tool kit includes 17 adapters fitting hundreds of vehicle makes and models including American, European and Japanese. See Product Description below for some of the many compatible vehicles.
HEAVY-DUTY AND DURABILITY, solid carbon steel construction with rust-proof and blasted finish, these components will stand up to heavy use and accidental drops. Perfect for off road weekend warriors, novices, and professional mechanics.
CONVENIENTLY ORGANIZATION, each kit includes detailed user manual with an illustrated parts diagram making operation a breeze. This kit is equipped with right and left handed thrust bolts, 2 retaining plates, 17 disc adapters.
LIFT-TIME WARRANTY, Orion Motor Tech pursue outstanding quality and service, only have point of departure, there is no terminal point. If you are not satisfied with this product or if you have any question, please feel free to contact us.

Orion Motor Tech 24-Piece Brake Caliper Tool Set
Off-road weekend warriors, DIY novices, and professional mechanics alike trust Orion Motor Tech because we source the highest quality components from around the world.
Use the Orion Motor Tech Disc Brake Caliper Tool Set to effortlessly reset your disc brake piston. It comes fully stocked with 18 adapters to fit hundreds of makes and models including most American, European, and Japanese makes/models, so it's even perfect for professional mechanics.
Cut out the hassle of C-clamps and other jerry-rig techniques and save time with this essential disc brake caliper tool set - constructed from heavy-duty carbon steel for maximum strength and longevity that resists rust and corrosion.
Conveniently organized in a compact carry case, it cleans up easily and keeps your adapters and thrust bolts protected in one place.
Universally Compatible with a Wide Range of Vehicles
NOTE: The compatibility is NOT limited to specific models listed. Works with most vehicles from the brands below. Names after the dash are just a handful of specific older vehicles.

Fitment:
European Models

Audi - (F), 80, 90, V8 100, Coupe E (R)

Austin - Metro, 200 & 400 Series, Maestro, Montego (F),

BMW - 318is, 320i, 325TD, 518i, 525i, 1x, 740i, 850ci, M5(F),

Citroen - XM, Xantia (F/R), C5

Fiat/Alfa Romeo (F) - 1642 (R)

Jaguar - XJ6, XJ40 (F/R)

Opel

Peugeot - 405. 1.9Gi, Gro, Sri, Gtxi, MI, 2.0 Sri (R)

Range Rover - 800

Renault - R21, Laguna

Saab - 9000 (R)

Volvo (F)

VW - Passat CL, GL, GT, Golf IV, GTI (F), Jetta, Synchro, Corrado, Scirroca, GTX
American Models

Ford - (F), AU & NZ, Fiesta, Telstar, Laser (R), Sierra, Grananda, Scorpio (R)

General Motors - Cadillac Seville, El Dorado, Saturn, Grand Prix, Lumina (R)

Jeep - Wrangler JK, TJ
Japanese Models

Honda - Concesto (F), Prelude, CRS, 16i,

Mazda (R)

Mitsubishi Colt (F)

Nissan - Cefira, Micra, Stanza, Sunny (F), Bluebird, Silvia, Primera, Maxima

Subaru - L, Z (R)

Toyota - Camry (F), Celica, Corolla, GT, MR2 (R)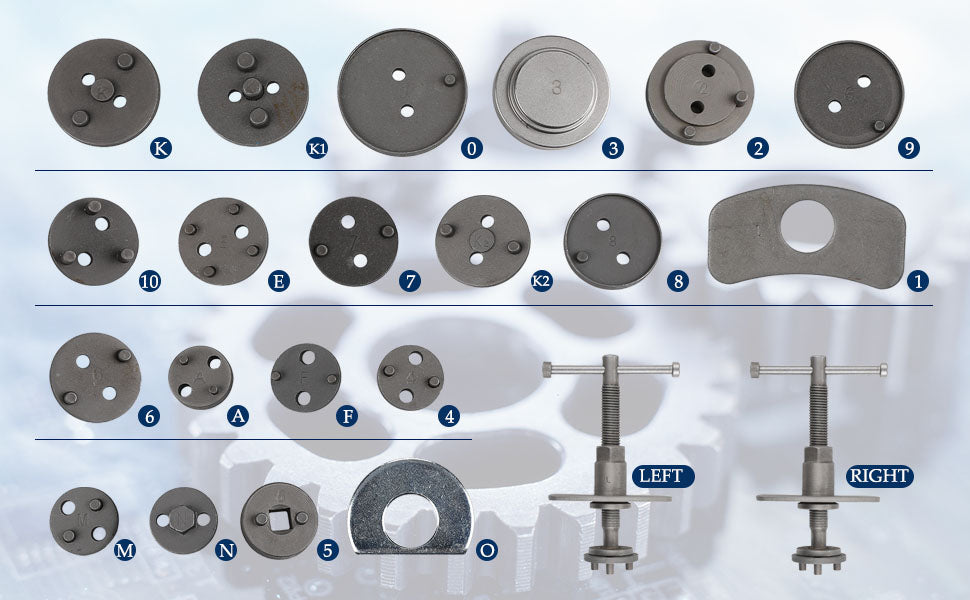 A Complete Brake Caliper Tool Set
You will get:
18 x Disc Adapters (#0, #2, #3, #4, #5, #6, #7, #8, #9, #10, #A, #E, #F, #K, #K1, #K2, #M, #N)
2 x Handed Thrust Bolt Assemblies (Left & Right)
2 x Retainer Plates (#O, #1)
1 x User Manual (Step by Step Operation Guide)
2 x Rubber Coated Gloves
The Long-Lasting Brake Caliper Tool

Our tool kit is constructed with ultra-strong carbon steel to endure years of heavy use and accidental drops - perfect for professional mechanics.

Instructions Included

We've included a detailed parts diagram and step by step instructions for a smooth piston wind-back process - even if you're a DIY novice.

Afraid it might not be compatible with your vehicle?

No worries. Give it a try and if you realize you have one of the few vehicles that it doesn't fit, just let us know.