Features:
Complete Set: Our fuel injector repair kit is a professional 59-piece set, completely ready to help you fix your worn fuel injector. It includes a remover, installer, and hex wrench along with 8 sleeve cups, 8 copper and 8 plated-iron washers, and a 32-piece O-ring kit in all needed sizes.
Superior Design: Unlike competing products, the sleeve remover comes with a high-strength zinc alloy tap built in to stay sharp, speed up your work, and help you get back on the road PDQ. This engine kit also works with the cylinder heads on & small enough to get at the difficult-to-reach rear cups.
Replaces OEM Parts F4TZ9F538A & 1814376C1 (sleeve cups) and CM5010, 1833564C92, 1833564C91, 1823492C97, F8TZ9229AA, & XC3Z9229AB (O-rings).
Fits All Vehicles with Navistar T444E & DT466E and Caterpillar 3126, 3126B, & 3126E diesel engines, including all Ford F-250, F-350, and Super Duty trucks and Econoline vans from 1994 to 2003 that use the 7.3L Powerstroke engine.
Enjoy Years of Use thanks to this auto tool kit's quality engineering and materials and thanks to OMT's solid warranty and friendly customer service.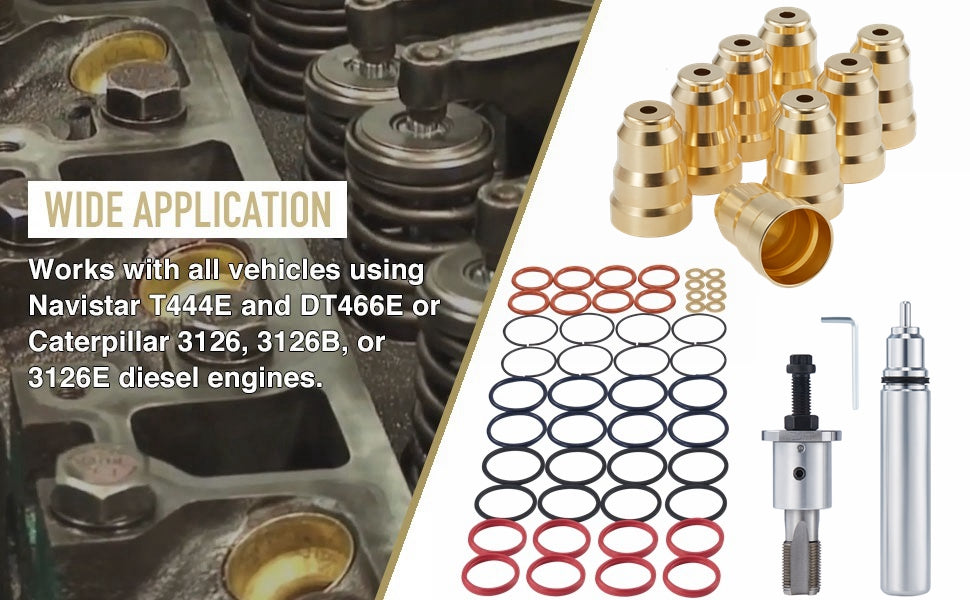 Package List:
1 x 4 mm Hex Wrench
1 x Fuel Injector Sleeve Remover (6" x 1.4")
1 x Fuel Injector Sleeve Installer (7.3" x 1.2")
8 x Fuel Injector Sleeve Cups (0.05" Cross-Section, 0.31" Top Inner Dia., 1.31" Bottom Inner Dia., 1.45" Outer Dia., 2.1" Height)
8 x Copper Washers (0.06" Thick, 0.55" Outer Dia.)
8 x Plated-Iron Washers (0.05" Thick, 1.42" Inner Dia., 1.6" Outer Dia.)
8 x Black O-Rings (0.08" CS, 1.36" Inner Dia., 1.59" Outer Dia.)
8 x Blue O-Rings (0.12" CS, 1.38" Inner Dia., 1.64" Outer Dia.)
8 x Orange O-Rings (0.14" CS, 0.91" Inner Dia., 1.19" Outer Dia.)
8 x Red O-Rings (0.14" CS, 1.24" Inner Dia., 1.5" Outer Dia.)
The tool kit offers sleeve cups, removal, and installation tools you need to replace the worn parts on the fuel injector.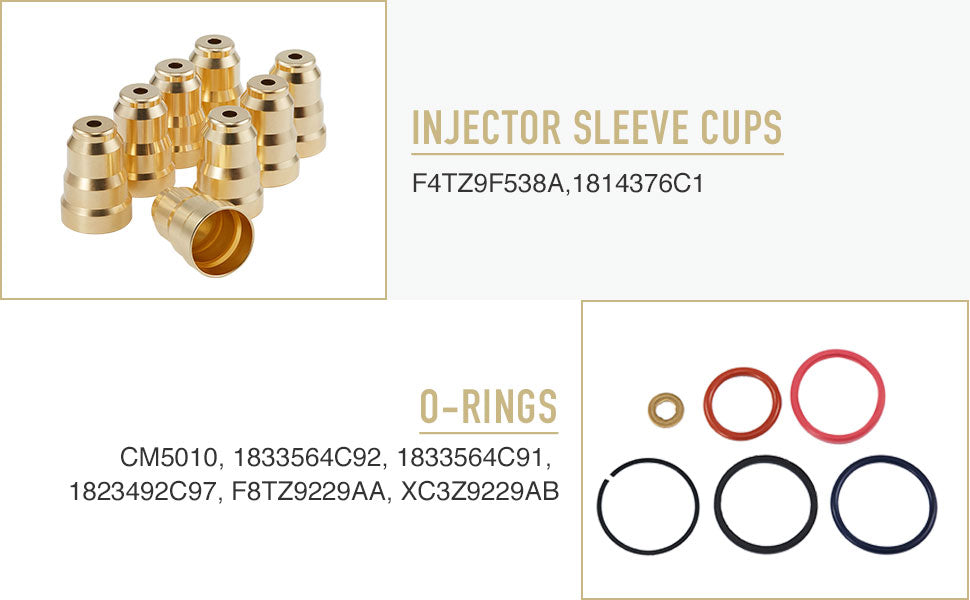 | | | |
| --- | --- | --- |
| Made of top-quality copper, the fuel injector sleeve cups resist deformity from extreme temperature changes. They are built to last with no worry of rust or fatigue. | The remover is equipped with a tap made of high-strength zinc alloy for high-speed, labor-saving tapping. | The O-Rings are made of nitrile rubber to resist oil, high temperature, and corrosion while maintaining good elasticity. |

Fitment
Works with the hundreds of vehicles equipt with Navistar T444E & DT466E and Caterpillar 3126, 3126B, & 3126E engines, including but not limited to:
1994 AmTran Volunteer
1994 Blue Bird Conventional
1994 Carpenter Classic
1994 Corbeil 1st Premier
1994 EMC 1st Premier
1994 Ford E-350 Econoline Club Wagon
1994 Ford F-250
1994 Ford F-350
1994 Ford F59
1994 International 3000
1994 International 3400
1994 International 3600
1994 International 3700
1994 International 3800
1994 International 4700
1994 International 4900
1994 Thomas Saf-T-Liner Conventional
1994 Wayne Lifeguard
1995 AmTran Volunteer
1995 Blue Bird Conventional
1995 Carpenter Classic
1995 Corbeil 1st Premier
1994 EMC 1st Premier
1995 Ford E-350 Econoline Club Wagon
1995 Ford F-250
1995 Ford F-350
1995 Ford F59
1995 International 3000
1995 International 3400
1995 International 3600
1995 International 3700
1995 International 3800
1995 International 4700
1995 International 4900
1995 Thomas Saf-T-Liner Conventional
1995 Wayne Lifeguard
1996 AmTran Volunteer
1996 AmTran RE
1996 Blue Bird Conventional
1996 Carpenter Classic
1996 Corbeil Conventional
1996 Ford E-350 Econoline Club Wagon
1996 Ford Econoline Super Duty
1996 Ford F-250
1996 Ford F-350
1996 Ford F59
1996 International 3000
1996 International 3400
1996 International 3600
1996 International 3700
1996 International 3800
1996 International 4700
1996 International 4900
1996 Thomas Saf-T-Liner Conventional
1997 AmTran CS
1997 AmTran RE
1997 Blue Bird Conventional
1997 Carpenter Classic
1997 Corbeil Conventional
1997 Ford E-350 Econoline Club Wagon
1997 Ford Econoline Super Duty
1997 Ford F-250
1997 Ford F-250 HD
1997 Ford F-350
1997 Ford F59
1997 International 3000
1997 International 3400
1997 International 3600
1997 International 3700
1997 International 3800
1997 International 4700
1997 International 4900
1997 Thomas Saf-T-Liner Conventional
1998 AmTran CS
1998 AmTran RE
1998 Blue Bird Conventional
1998 Carpenter Classic
1998 Corbeil Conventional
1998 Ford F-250
1998 Ford F-250 HD
1998 Ford F-350
1998 Ford E-350 Econoline Club Wagon
1998 Ford Econoline Super Duty
1998 International 3000
1998 International 3400
1998 International 3600
1998 International 3700
1998 International 3800
1998 International 4700
1998 International 4900
1998 Thomas Saf-T-Liner Conventional
1999 AmTran CS
1999 AmTran RE
1999 Blue Bird Conventional
1999 Carpenter Classic
1999 Carpenter Classic 2000
1999 Corbeil Conventional
1999 Ford E-350 Super Duty
1999 Ford Econoline Super Duty
1999 Ford F-250 Super Duty
1999 Ford F-350 Super Duty
1999 Ford F-450 Super Duty
1999 Ford F-550 Super Duty
1999 International 3000
1999 International 3400
1999 International 3600
1999 International 3700
1999 International 3800
1999 International 4700
1999 International 4900
1999 Thomas Saf-T-Liner Conventional
2000 AmTran CS
2000 AmTran RE
2000 Blue Bird Conventional
2000 Carpenter Classic 2000
2000 Corbeil Conventional
2000 Corbeil Rear Engine
2000 EMC-3900 RE
2000 Ford E-350 Econoline Club Wagon
2000 Ford E-350 Econoline Super Duty
2000 Ford E-450 Econoline Super Duty
2000 Ford Excursion
2000 Ford F-250 Super Duty
2000 Ford F-350 Super Duty
2000 Ford F-450 Super Duty
2000 Ford F-550 Super Duty
2000 International 3000
2000 International 3400
2000 International 3600
2000 International 3700
2000 International 3800
2000 International 4700
2000 International 4900
2000 Thomas Saf-T-Liner Conventional
2001 AmTran CS
2001 AmTran RE
2001 Blue Bird Conventional
2001 Carpenter Classic 2000
2001 Corbeil Conventional
2001 EMC-3900 RE
2001 Ford E-350 Econoline Club Wagon
2001 Ford E-350 Econoline Super Duty
2001 Ford E-450 Econoline Super Duty
2001 Ford Excursion
2001 Ford F-250 Super Duty
2001 Ford F-350 Super Duty
2001 Ford F-450 Super Duty
2001 Ford F-550 Super Duty
2001 International 3000
2001 International 3400
2001 International 3600
2001 International 3700
2001 International 3800
2001 International 4700
2001 International 4900
2001 International CE 200
2001 International IC
2001 Thomas Saf-T-Liner Conventional
2002 AmTran CS
2002 AmTran RE
2002 Blue Bird Conventional
2002 Corbeil Conventional
2002 Ford E-350 Econoline Club Wagon
2002 Ford E-350 Econoline Super Duty
2002 Ford E-450 Econoline Super Duty
2002 Ford E-550 Econoline Super Duty
2002 Ford Excursion
2002 Ford F-250 Super Duty
2002 Ford F-350 Super Duty
2002 Ford F-450 Super Duty
2002 Ford F-550 Super Duty
2002 International 3000
2002 International 3400
2002 International 3600
2002 International 3700
2002 International 3800
2002 International 4700
2002 International 4900
2002 International CE 200
2002 International RE 200
2003 Blue Bird Conventional
2003 Corbeil Conventional
2003 Ford E-350 Super Duty
2003 Ford E-450 Super Duty
2003 Ford E-550 Super Duty
2003 Ford Excursion
2003 Ford F-250 Super Duty
2003 Ford F-350 Super Duty
2003 Ford F-450 Super Duty
2003 Ford F-550 Super Duty
2003 International 3000
2003 International 3400
2003 International 3600
2003 International 3700
2003 International 3800
2003 International 4700
2003 International 4900
2003 International CE 200
2003 International RE 200
2004 Blue Bird Conventional
2004 Corbeil Conventional
2004 International 3000
2004 International CE 200
2004 International RE 200