OMT Manual Tire Bead Breaker Features:
TIRE BEAD BREAKER: Quickly change tires with this Orion Motor Tech manual tire bead breaker as it easily fits in the space between the tire bead and lip of the rim, while two R pins and two cylindrical pins hold things firmly in place
WIDE APPLICATION: Operate this hydraulic bead breaker with an air ratchet or manual wrench to quickly change the tires on a wide variety of vehicles, including ATVs, golf carts, trucks, and even some 42 inch tractors and backhoes
BUILT TO LAST: Made of premium #45 heat treated steel, every part of our tire changing tool provides you with trustworthy durability and corrosion resistant service for years for dependable use
EASY TO TRANSPORT: Easily store this 11 pound tire servicing tool or take it with you on the go with its compact and lightweight design ensuring it takes up minimal space in your vehicle, garage, or workshop
COMPLETE PACKAGE: This tire repair tool includes two hairpin cotter pins and two cylindrical pins for easy and convenient tire removal while the pair of provided working gloves ensure safe and clean operation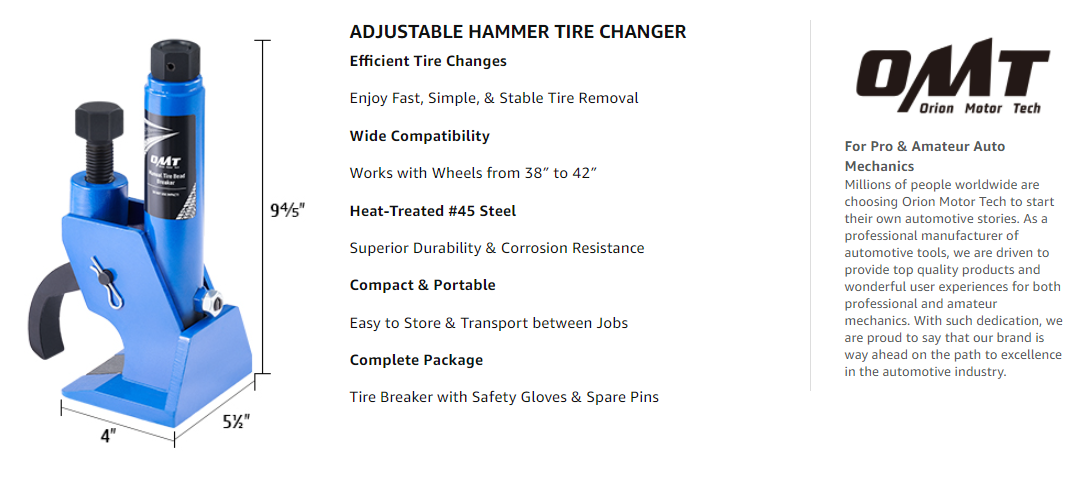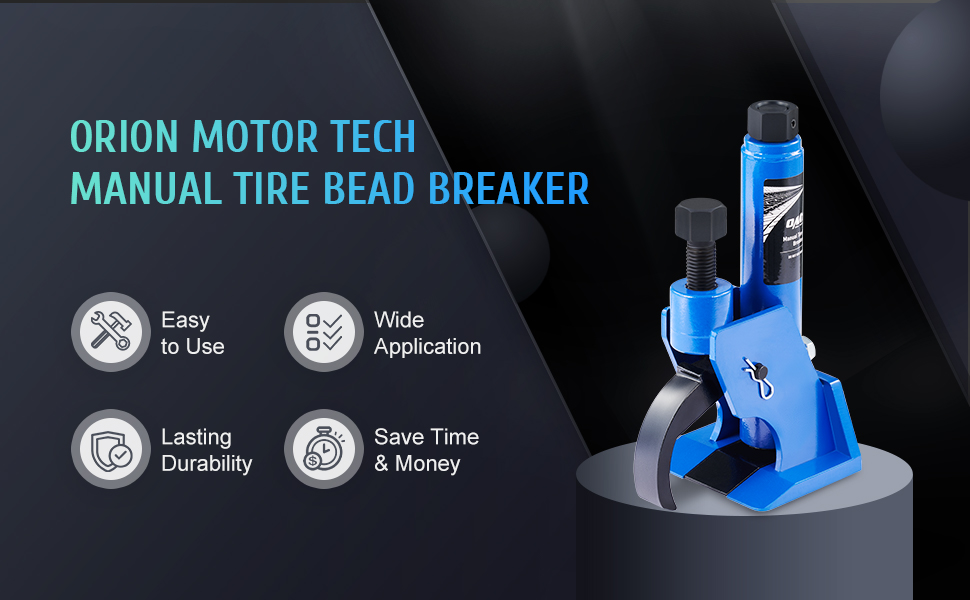 Use this Orion Motor Tech manual tire beak breaker with air ratchets or wrenches to remove tires from rims. This helpful tire breaker tool easily separates the bead from the rims of nearly all types of vehicles including ATVs, golf carts, trucks, and various 42 inch tractor and backhoe tires. This clamp and ramp style bead breaker's clamp easily screws into position on the sidewall between the tire bead and rim, while the R shaped pins and connection pins hold this automotive tool in place. Constructed from heat treated #45 steel, this tire hammer bead breaker provides years of reliable and corrosion resistant service. Our manual tire changer comes with a pair of working gloves for safe operation and its compact size and lightweight construction make it easy to transport between jobs.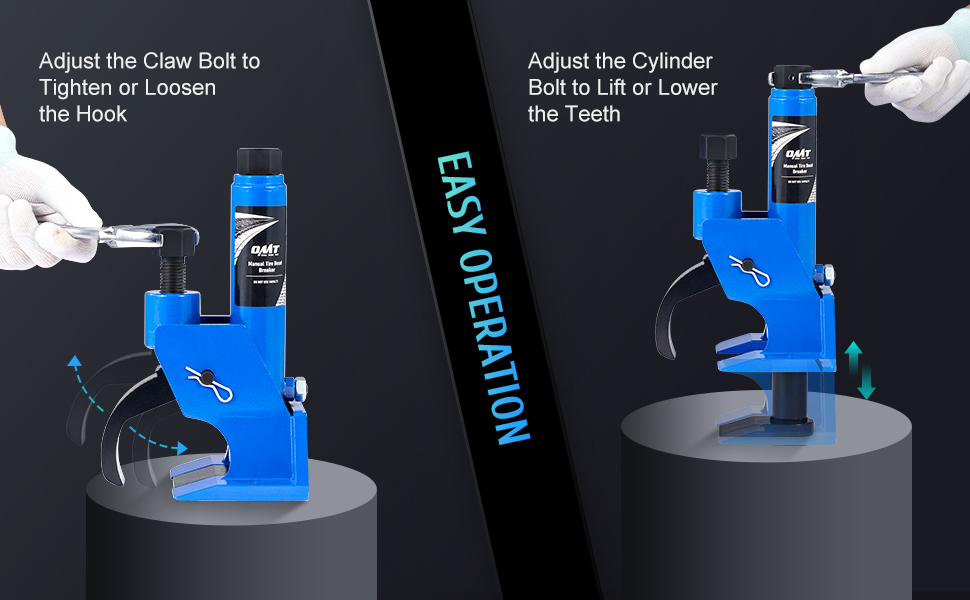 Specifications
Material: #45 Steel
Color: Blue, Black
Dimensions: 9.8 x 5.5 x 4.1 in. (25x14x10.5 cm)
Net Weight: 11.1 lb. (5.06 kg)
Package List
1 x Tire Bead Breaker
2 x Connection Pins
2 x R-Shaped Pins
1 x Gloves