Features:

All You Need: 80pc professional metric and SAE tap and die set includes tap wrench, adjustable T-Handle Wrench, and adjustable die wrench. Everything you need is in one kit!
Premium Durability: Professional grade fine carbon steel provides strength and durability so you can tackle any job with confidence knowing it's built to last.
Full Accessories: Premium tool kit includes 17 metric and 17 SAE taps and dies, long handle adjustable tap wrench compatible with thread outer diameter up to 25mm, adjustable die wrench compatible with M3-12(1/16"-1/2"), t-handle tap wrench compatible with M3-6, thread pitch gauge size for measuring thread pitch.
Precision Threading: Use the tap to cut and form the perfect threaded hole, then cut and form a precisely threaded bolt using the included die. Tap and die in virtually any metric or SAE size you need for the perfect fit.
Versatility: Tap and die one of 34 different SAE thread size combinations, or create one of 34 different metric thread size combinations. Thread types include NC, NF, and NPT. Includes both coarse and fine threaded taps and dies.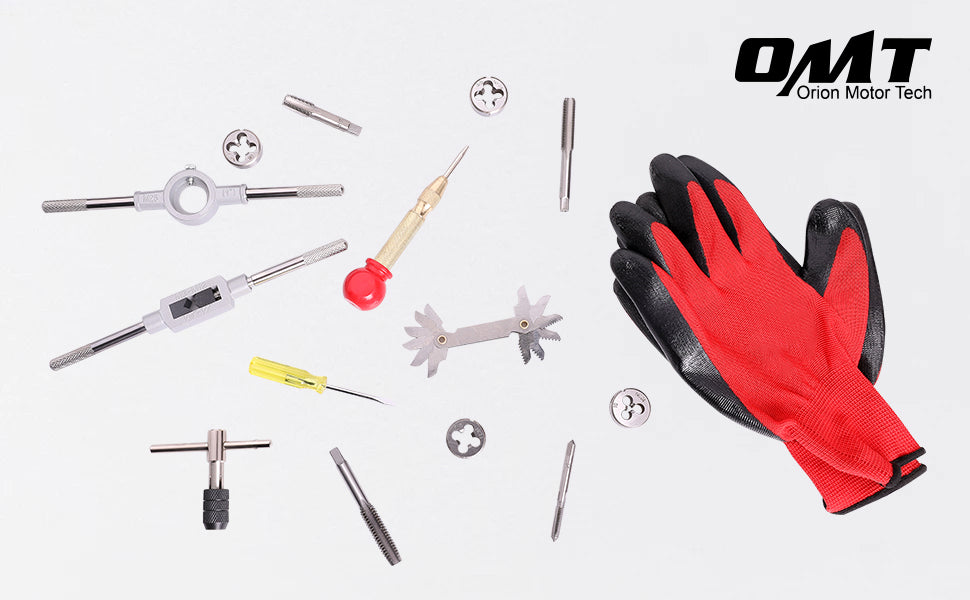 The Orion Motor Tech SAE & Metric Tap and Die Set offers do-it-all convenience for your threading needs. Use this comprehensive kit to cut and renew any thread with crisp-cutting precision, then put it all away in the convenient, easy-to-store kit that fits in any toolbox. It's crafted from premium materials with extra hardness for an extended lifetime.
Red Box-SAE SIZE
| | | |
| --- | --- | --- |
| Cut and form or renew any internal or external thread with precision. | With metric and standard tap & die sets, our 80-piece kit is sure to do it all. | Our professional-grade fine carbon steel is carefully constructed with extreme strength and durability. |