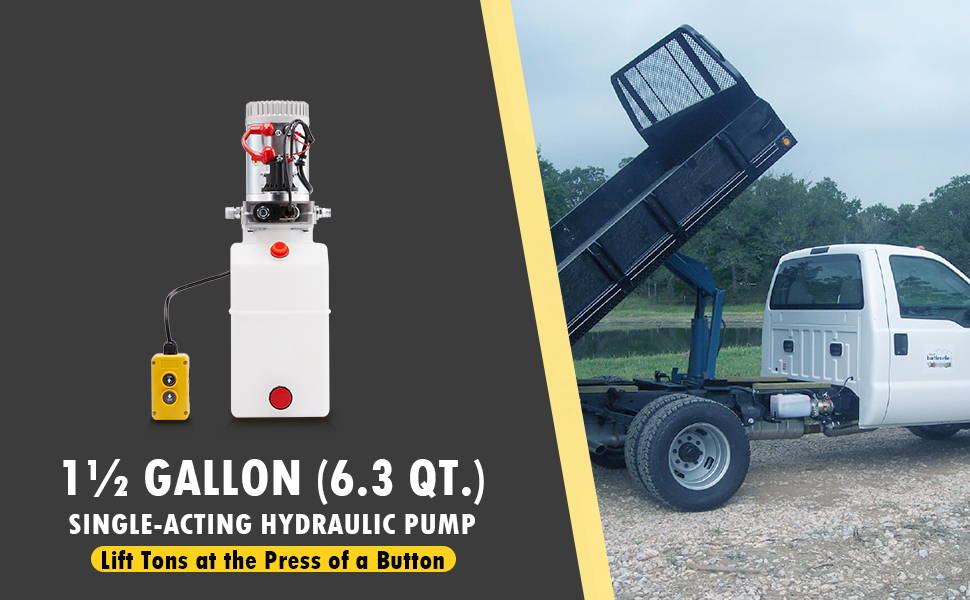 This hydraulic pump features a premium 12V DC motor that produces 3 HP with a maximum relief pressure of 3200 psi to enable your various hydraulic tools for lifting, pressing, bending, straightening, cutting, and much more!
It plugs directly into 12V car batteries to keep things simple and lets you operate safely at a distance with its 14′9″ pendant control. The built-in safety valve also protects your device against excessive pressure on the line during use.
Our 12V hydraulic power units are available in multiple sizes and reservoir styles, perfect for use with your dump trailer, dump truck, RV, wheelchair or boat lift, snow plow, or any other application that requires a powerful and compact hydraulic pump.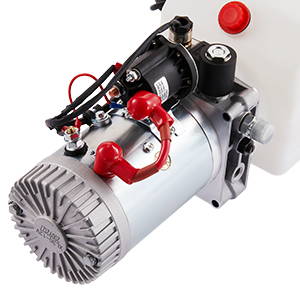 Powerful Motor, Rapid Start
Our motor's asynchronous three-phase action produces 3 HP with a max relief pressure of 3200 psi to easily lift your load.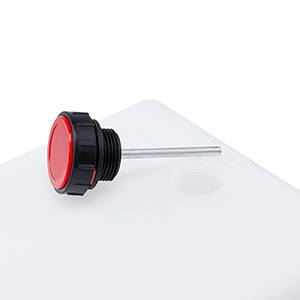 Sturdy Reservoir
The high-quality 1.5 gallon (6.3 qt. or 6L) tank is made from premium plastic specially engineered to avoid cracks and leaks, keeping your machine stable and cool during heavy-duty jobs.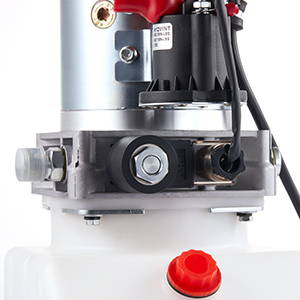 Superior Flow Rate
This pump displaces 1.1 cc at 1850 rpm for an 0.83 gpm flow rate, ensuring fast action with strong power and little noise for any application.
Material: Steel, Aluminum, Plastic
Color: Chrome, White
Dimensions: 22.1 x 7.9 x 7.1 in. (56x20x18 cm)
Mode: Single-Acting
Port: M18
Max. Displacement: 1.1 cc
Max. Flow Rate: 0.83 gpm (3.1 L/min)
Max. Relief Pressure: 3200 psi (22 MPa)
Max. Speed: 2850 rpm
Rated Motor Power: 3 hp (2.2 kW)
Motor Voltage: 12V DC
Reservoir: 6.3 qt. (1.5 gal. or 6 L)
Net Weight: 26.5 lb. (12 kg)
Warranty: 1 Year
1 x Single-Acting Hydraulic Pump
1 x 14'9" Pendant Control
1 x SAE #6 Fitting
1 x Instructions