Features:
* FITMENT: 2006 Toyota Camrys without sunroof and 2007, 2008, 2009, 2010, 2011 Toyota Camrys, Camry LEs, Camry SEs, and Camry Hybrids without a sunroof.
* REPLACES PART #74320-06780-B0. This aftermarket direct replacement is exactly the same as the original visor, made with the same quality and from the same materials.
* BUILT-IN MIRROR: Includes the original part's attractive visor mirror with sliding cover. Note that the roof metal connection in these models does not support or power the vanity lights on the visors for the sunroof models.
* INSTALLS EASILY: The old one pops out, the new one pops in. Installation takes less than a minute, but the quality lets you enjoy your new visor for years.
* MONEY-BACK GUARANTEE: Try our product at zero risk. Orion Motor Tech's friendly customer service is ready if you need help. Failing that, our warranty provides you a no-hassle replacement or refund.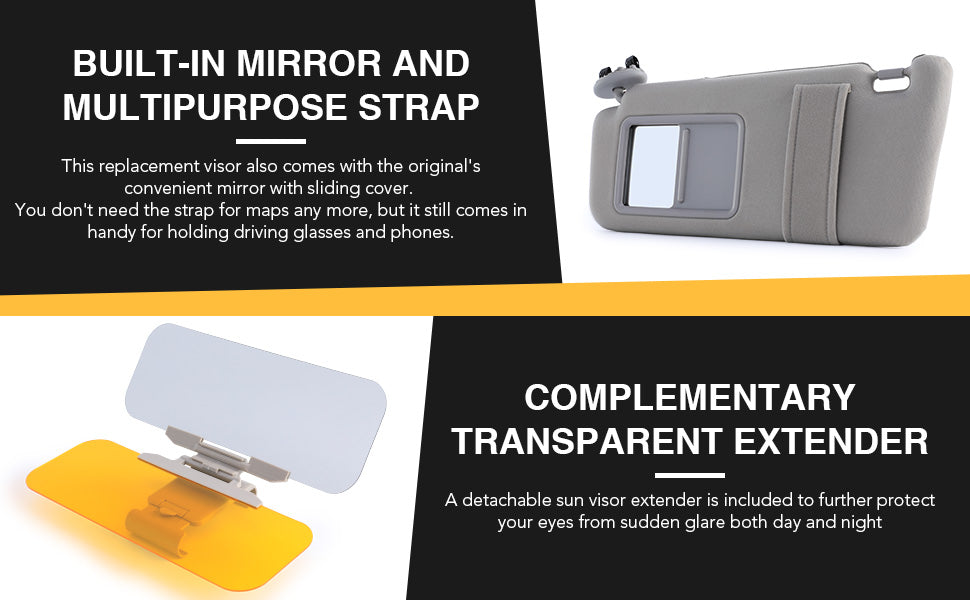 The metal and ABS brackets detach easily for cleaning or replacement.Safe ABS plastic withstands impact, humidity, and wear.




The ABS inner cover protects the rotary axis from damage. The outer cover is carefully hand-stitched for long service time and quiet elegance.




Just like the OEM part, our soft plush fabric is stronger than it seems: high-temperature treatment lets it fight deformation, wrinkles, wear. Stain-resistant, it's also easy to clean.