Features
DURABILITY, this bearing puller set features high hardness and toughness for optimal performance. Collets made of chrome molybdenum steel ensure rust-proof performance and long-lasting using.
WIDE COMPATIBILITY, comes with various size and type of collets, Blind / Internal /Bearing Puller, this tool set boasts wide compatibility.
EASY TO USE, this kit is easy to use, just insert the collect and expand it to fit the hole.
PERFECT FOR PROFESSIONAL AND DIY USE, ideal for pulling jobs and will not damage parts in using, perfect for professional and DIY use.
PORTABILITY, comes with a durable storage case, you can neatly collect the tools and easily bring it to anywhere you like.

Orion Motor Tech Blind Hole Collet Bearing Race and Seal Puller Extractor Kit
Off road weekend warriors, novices, and professional mechanics trust the Orion kit because Orion Motor Tech sources the highest quality components from around the world. Constructed from heavy-duty material for maximum strength and longevity that resists rust and corrosion.
The Orion Kit fit hundreds of makes and models including most American, European and Japanese makes/models, so it's even perfect for professional mechanics.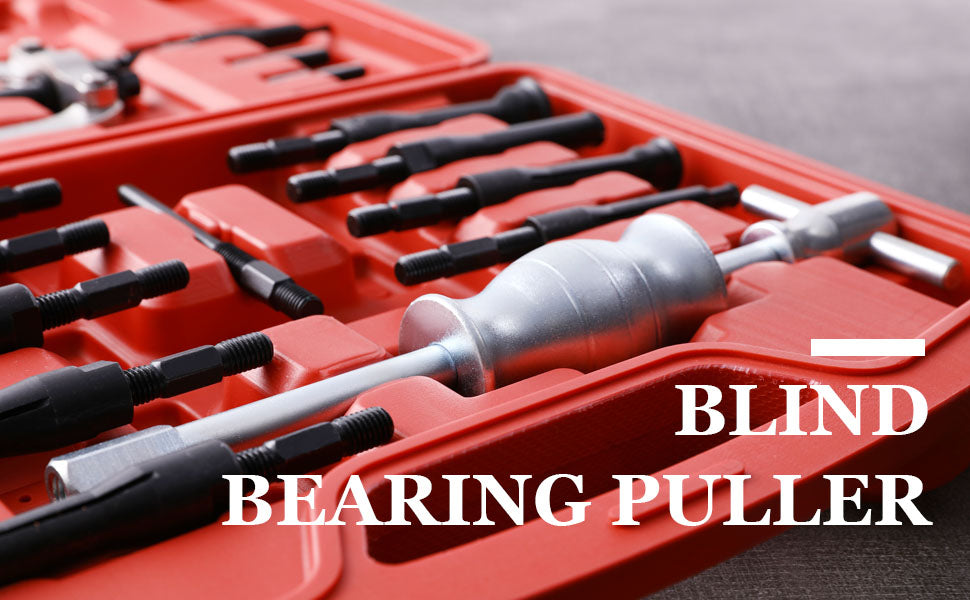 Conveniently organized in a compact carry case, it cleans up easy and keeps your adapters and thrust bolts organized.
Specification: Thread: M10×1.5, M10×1.5 to M8×1.25, M10×1.5 to M6×1.0 Collects size: 8-13mm, 10-17mm, 15.5-22mm, 22-29mm,28.5-35mm, 35.5-39mm, 38.5-45mm, 42.5-49mm, 48.5-55mm, 52.5-59mm
Package List: 1x Sliding Hammer Assy 1x 2 Claw Puller Assy 3x Screw Adaptors 1 X Instruction 10 X Collects 1 X Counter Stay Puller

Still looking for blind hole collet bearing race and seal puller extractor Kit?
Our tool made of ultra strong material, these components will stand up to heavy use and accidental drops. It's even perfect for professional mechanics.
Afraid it might not be compatible with your vehicle?
No worries. Give it a try and if you realize you have one of the few vehicles that it doesn't fit, just let us know.
PERFECT FOR: most compact cars, mid-size cars and light pickup trucks.
PROBABLY UNFIT: most full-size cars, mid-size and full-size pickup trucks.
Customer Reviews
02/22/2023
Kevin C.

United States
Have not received it
I have not received it. I've been waiting two weeks
12/03/2022
Nickolas D.

United States
Thank you!
Sweet.. Ever try getting pocket bearings out of a toyota rf1a transfer case.. worth every penny..
03/09/2022
Richard C.

United States
Cheap
The price is right but the two stand puller is useless on outer bearing races. The beveled edge I had to modify to a flat biting surface to work. Once I made the collet fit correctly I hade to put it in my vice upside down and press the races out. The bevel shouldn't be on the collets. It did work but only after modifications.