Features:
Specifications: Bolt Pattern: 5x4.75"(vehicle) to 5x4.75"(wheel). Thread Pitch: 12x1.5. Hub Bore: 87.1mm. Thickness: 2.0". Quantity: 4 pieces.
Compatibility: Fit Chevy Corvette Camaro S10 S15 GMC Jimmy Sonoma Typhoon & Cadillac Oldsmobile Pontiac.
Functions: Provide your vehicle with a more aggressive stance and appearance while improving its handling and stability. They also increase tire clearance, fix brake caliper clearance issues, allow installation of lift/lowering kits and wider, larger, or high traction tires.
Increased Safety: Machine-manufactured precisely from 6061-T6 aircraft-grade aluminum billet, with heat-treated and hardened 10.9-grade bolts pre-installed. The anodized surface provides additional resistance to corrosion. Exceptionally sturdy and lightweight compared to steel spacer.
100% Satisfaction Guaranteed: 2-year warranty. Please contact our friendly and helpful customer service representatives if you have any questions, we will be glad to address any questions or concerns.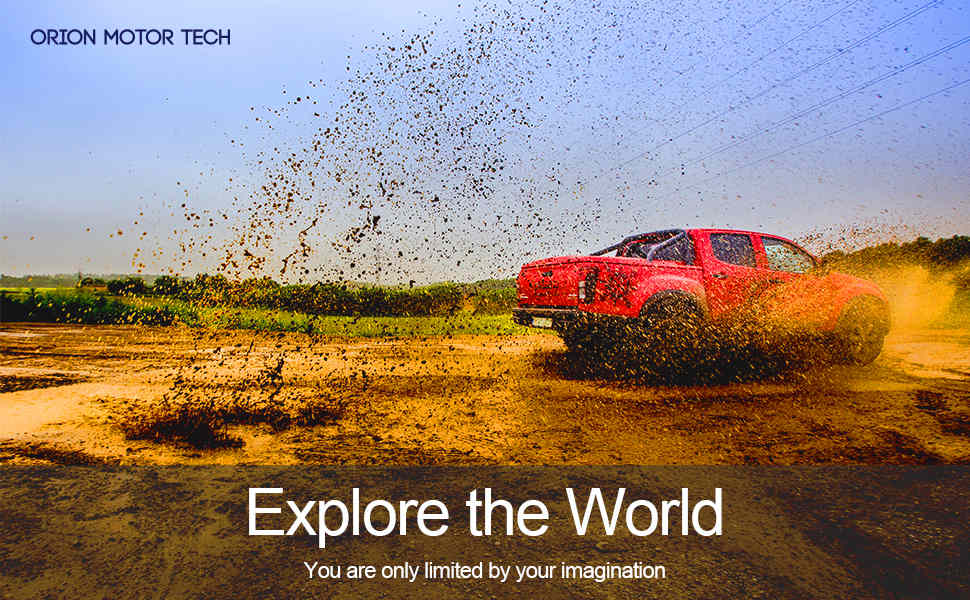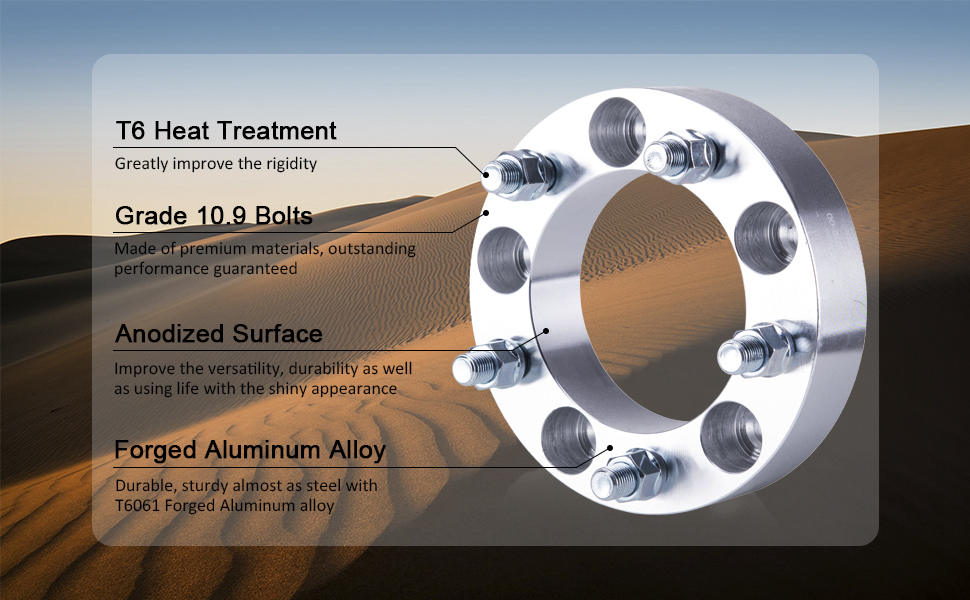 4 Pcs - 2" Thickness - 5x4.75"/5x120.7mm to 5x4.75"/5x120.7mm Bolt Pattern - 12x1.5 Studs - 3.429"/87.1mm Hub Bore
Forged Aluminum Alloy: made of Aerospace Grade 6061-T6 Aluminum, ensuring the highest level of performance and durability for your automobile, T6 heat treatment can greatly improve the rigidity.

Precisely Machined: CNC machined with 60 degree taper to precise specifications, heat treated and hardened heavy duty spacers and studs for safety.

Grade 10.9 Bolts: Made of Premium materials, ensuring outstanding performance

Increase Stability and Handling: widen your vehicle's wheel base, increasing overall stability and providing you with better handling.

Aggressive appearance, with the widened track base, your favorite vehicle will get a cooler look
Note:
Before installing wheel spacer adapters, please make sure that you have bought the compatible wheel spacer adapters for your vehicle.

You can easily check by placing one wheel spacer adapter onto the rim, screw in the nuts manually, if you can do that without feeling any restriction, then you have got the appropriate wheel spacer adapter for your vehicle.

If your OEM studs are longer than the spacer's thickness, you need to shorten the lug studs by grinding them down or replacing with shorter ones.
Fitment:
Buick

1979-1985 Buick Rivera FWD -

 

Not Fit for 1986-1999 Rivera

Cadillac

1979-1985 Cadillac Eldorado -

 

Not Fit for 1986-2002 Eldorado
1976-1980 Cadillac Seville -

 

Not Fit for 1981-2004 Seville

2004-2009 Cadillac XLR

2004-2009 Cadillac XLR-V

Chevy

1982-2002 Chevrolet Camaro -

 

Not Fit for 1967-1981 or 2003-2015 Camaro, Different Studs

1984-2015 Chevrolet Corvette All Series

1982-2004 Chevrolet S-10 Pickup 2WD-4WD

1983-1994 Chevrolet S-10,S-15 Blazer

GMC

1982-2002 GMC Jimmy 2WD-4WD

1991-2004 GMC Sonoma 2WD

1992-1993 GMC Typhoon

Oldsmobile

1991-2001 Oldsmobile Bravada

Pontiac

1982-2002 Pontiac Firebird -

 

Not Fit for 1968-1981 Firebird, Different Studs
Customer Reviews
I liked fits perfectly in gmc Sonoma
Good Satisfacción. with this wheel spacers . thanks