Features
COMPLETE SET: This complete Orion Motor Tech air conditioner servicing tool kit includes a powerful 1/3 hp vacuum pump, a manifold gauge, a leak detector, 3 hoses, a storage case, and a carry bag for easy refrigerant evacuation, recharging, and other AC repair work
SAFE AND DURABLE: The motor's high-quality copper construction offers efficient and dependable service at a 4 cfm flow rate; the reinforced aluminum alloy casing effectively dissipates heat generated during operation and resists chemical corrosion for years of helpful use
WIDE APPLICATION: The included 29° trapezoidal adapters and hoses are compatible with refrigerant systems using R1234yf to perform efficient refrigerant charging, diagnostic checking, and coolant recoveries on auto AC systems
HELPFUL ACCESSORIES: This vacuum pump and gauge kit comes with the necessary lubricating and absorptive oil provided, along with a funnel and one-size-fits-most gloves for quick and clean replacement when needed; two adapters also allow use with more hoses; a durable case for easy storage, and a carry tote to keep everything organized for convenient transport between jobs
GUARANTEED SATISFACTION: Get right to work evacuating and recharging your vehicular AC systems with this Orion Motor Tech air conditioner vacuum pump, reassured by its strong 1 year warranty and our usual friendly 24/7 customer service!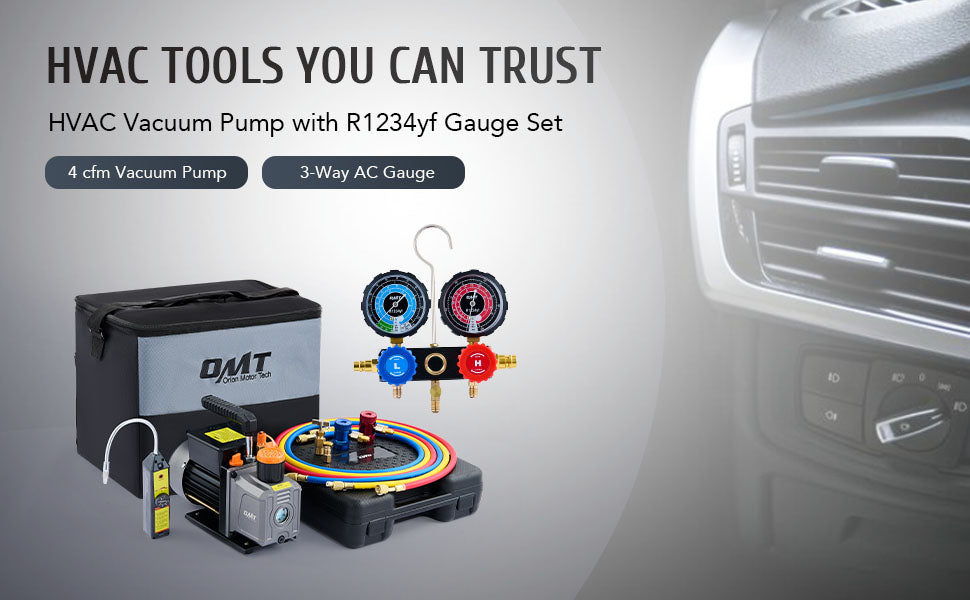 Orion Motor Tech 4 cfm HVAC Vacuum Pump with 3-Way R1234yf Gauge Set
Complete Set This vacuum pump and gauge set with accessories can be used for HVAC charging, diagnostic check, and repair work.

Easy Operation Use this vacuum pump and gauge set to service your vehicle's HVAC system by yourself thanks to its detailed instructions.

Precise & Efficient The high-precision gauge offers accurate readings, while the powerful vacuum pump provides strong suction for faster operation.

Rock-Solid Construction The brass gauge provides shockproof performance and the vacuum pump features an aluminum alloy casing for lightweight stability.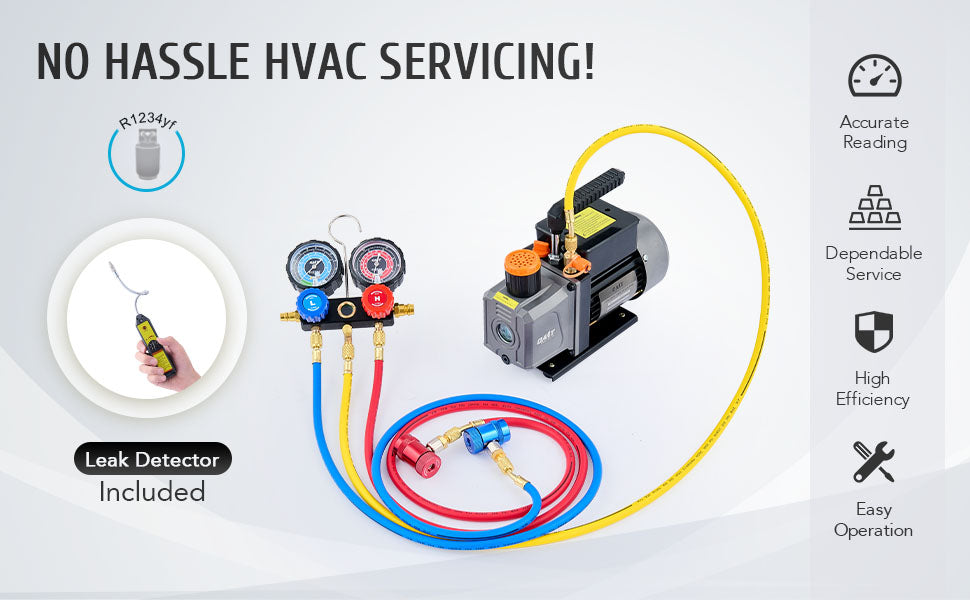 Reinforced ¼″ Hoses

These 5′ hoses endure working pressures up to 600 psi with burst pressure at 3000 psi.

Adjustable R1234yf Adapters

The 5 and 6-ball quick couplers let you quickly and easily service R1234yf AC systems in both foreign and domestic cars.

R1234yf Can Tap

Fits all standard puncture-style R1234yf cans to allow quick and easy recharging of the coolant in your car, truck, SUV, or other newer vehicles.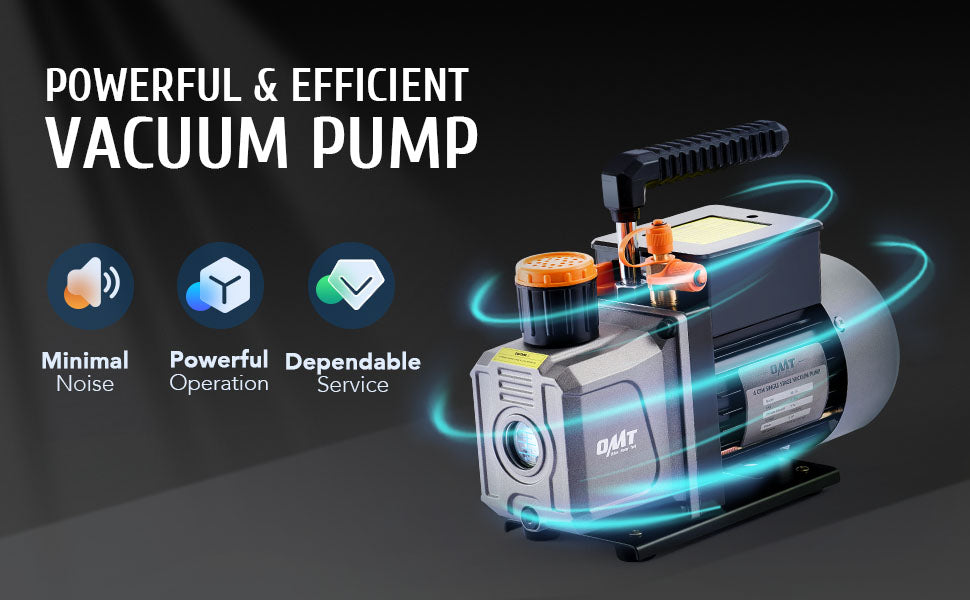 Dual Gas Inlets & Adapters

The pump features both ¼″ and ⅜″ inlets and comes with a ¼″ to ½″ adapter to work with three different types of hoses.

Transparent Window

The transparent window lets you easily monitor the oil level and quality for timely refills.

Built-in Fan

The large integrated fan removes heat quickly for safe and smooth operation.
Specifications
Material: Aluminum Alloy, A3 Steel, Copper, Rubber, Plastic
Input Power: 110V/60Hz
Rated Power: 0.33 hp (249W)
Flow Rate (FAD): 4 cfm (6.8 m3/h)
Inlet Sizes: 0.25 & 0.375 in.
Gauge Accuracy: ±1.6%
Low-Pressure Gauge Range: -15 to 120 psi (-1 to 8.2 Bars)
High-Pressure Gauge Range: 0 to 500 psi (0 to 34.5 Bars)
Compatible Refrigerants: R1234yf
Oil Capacity: 0.24 qt. (225 mL)
Hose Length: 5 ft. (1.5 m) ea.
Hose Burst Pressure: 3000 psi (206.8 Bars)
Package Dimensions: 16.5 x 12 x 13 in. (42x30.5x33 cm)
Package Weight: 21.3 lb. (9.7 kg)
Warranty: 1 Year
Package List
1 x Vacuum Pump
1 x Gauge Set
1 x Evacuation/Charging Hose
1 x Low-Pressure Hose
1 x High-Pressure Hose
1 x Low-Pressure Quick Coupler
1 x High-Pressure Quick Coupler
1 x 1/4 in. to 1/2 in. Adapter
1 x 1/2 in. to 1/4 in. Adapter
1 x Vacuum Pump Oil
2 x Work Gloves
1 x Funnel
1 x Teflon Tape
1 x Tote Bag
1 x Storage Case
1 x R1234yf Tap
1 x Leak Detector
1 x Instruction Manual
Customer Reviews
Got exactly what was advertised. Good tool
The gauge and pump worked well. Was able to fix my truck AC without issue. The high and low side fitting did leak a little so after I pulled vacuum I disconnected for 5-10 mins then reconnected to make sure it was holding a vacuum.