Features:
Wide Compatibility: This full-sized cargo net stretches from its usual 3x4 foot area to more than 6x8 feet to fit smaller SUV, jeep, and pickup truck beds, roof racks, and cargo carriers.
Superior Mesh: Despite its elasticity, our truck bed cargo net is perfect for holding down smaller items thanks to the small 4x4 in. mesh with handmade knotting for extra dependability and strength, holding down up to 440 lb.
Quality Materials: This bungee net for truck beds and rooftop racks is made of premium latex rubber for extra elasticity and endurance; the included carabiners use anodized aluminum alloy for corrosion-free performance even under punishing use.
Instant Setup, Easy Storage: Simply attach our cargo netting using the 12 included carabiners or your own hooks; between hauls, our net packs tightly into the included drawstring bag for easy storage under seats so it's always ready for use.
Satisfaction Guaranteed: Order this cargo net knowing that OMT's usual strong warranty and friendly 24/7 customer service ensure you'll enjoy it for years to come.

Universal Heavy-Duty Truck Bed Net
This universal heavy-duty net's natural latex core provides superior flexibility and durability in all kinds of weather.

Our truck bed net comes with 12 carabiners made from corrosion-resistant anodized aluminum, able to hold up to 44 lb. each.

Tight 4×4 inch mesh squares give our netting stronger hold and offer greater protection for both small and bulky cargo across all kinds of terrain.

This 3×4 foot stretchable mesh can be pulled to cover an area 6×8 feet to work with smaller trucks, rooftop frames, and storage racks.

The included bag keeps your net neat and orderly for storage or transport.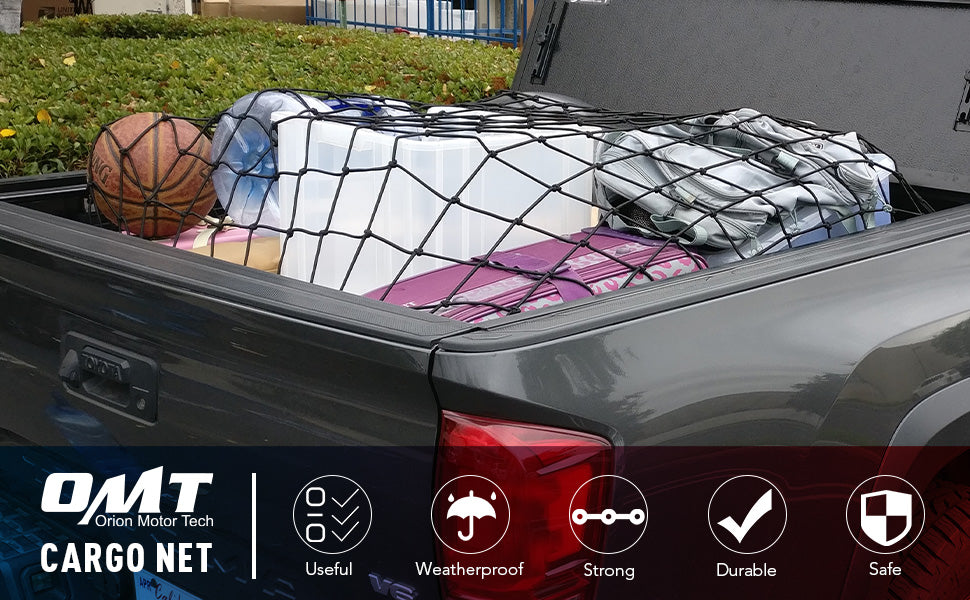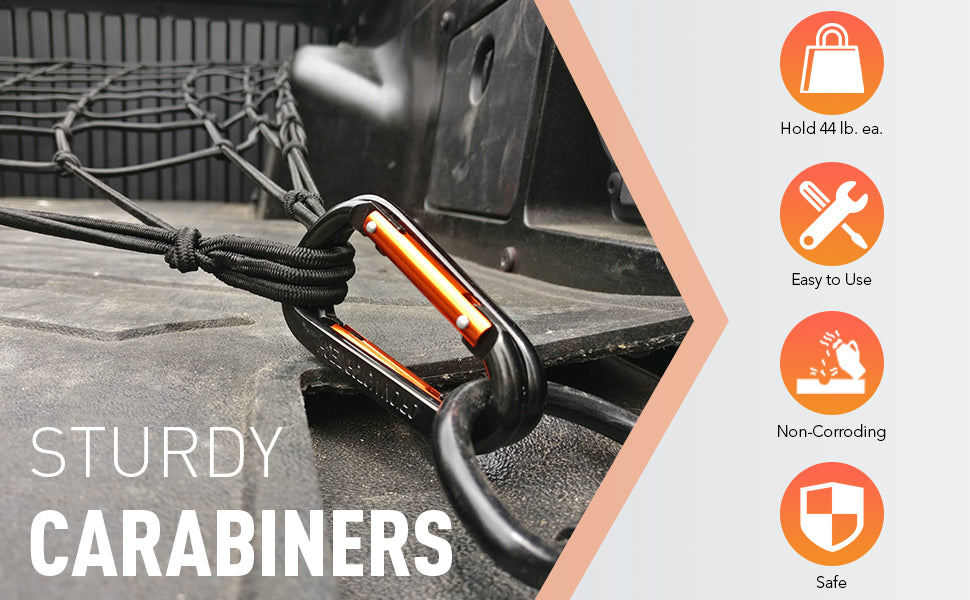 This net's natural latex core provides superior flexibility, durability, and weatherproofing.




Handmade reinforced knots keep the mesh compact, ensuring better quality and larger capacity.




Everything packs up easily for storage and transport wherever needed thanks to the included bag.
Specifications
Net Material: Latex Rubber
Carabiner Material: Anodized Aluminum Alloy
Color: Black
Usual Area: 3 x 4 ft. (90x120 cm)
Max. Area: 6 x 8 ft. (180x250 cm)
Mesh Area: 4 x 4 in. (10x10 cm)
Cord Thickness: 1/5" (5 mm)
Max. Load: 440 lb. (200 kg)
Net Weight: 2.1 lb. (950 g)
Warranty: 1 Year
Package List
1 x Cargo Net
12 x Carabiner Clips
1 x Drawstring Bag
1 x User Instructions
Customer Reviews
Great nets
Great will be buying my third and fourth cargo nets soon!