Features
TIME FOR A TUNE-UP: Is your Chevy, Vauxhall, or Opel no longer running the way it used to? Then it's time for a tune-up. Roll up your sleeves and use this OMT tool kit to hold your vehicle's timing system at top dead center while you check, fix, and replace other components.
WIDE COMPATIBILITY: This set of engine tools are compatible with recent 1.2L and 1.4L Chevy Aveos, Cruzes, and Orlandos and with a large range of recent 1L, 1.2L, and 1.4L Vauxhall and Opel vehicles: Adam, Ampera, Astra J, Cascada, Corsa D, Insignia, Meriva B, Mokka, and Zafira Tourer C. See above for a complete fitment list.
PREMIUM MATERIAL: Orion Motor Tech camshaft alignment parts are made with heat-treated 45# steel for maximum durability and strength, so you can reliably get your engine running like new pdq.
EASY TO USE: This engine timing belt tool set includes reinforced OEM replacement locking pins and camshaft sensor locking tools, a camshaft locking plate, and an inlet camshaft adjustment tool as well as a step-by-step manual for quick and easy use and a convenient blow-molded case to keep everything organized and portable.
QUALITY ASSURANCE: Look to OMT for the finest craftsmanship and the most reliable parts, rigorously tested to provide the highest-grade tools on the market. We back these parts with our usual strong warranty and friendly 24/7 customer service, ensuring that you'll enjoy their use for years to come.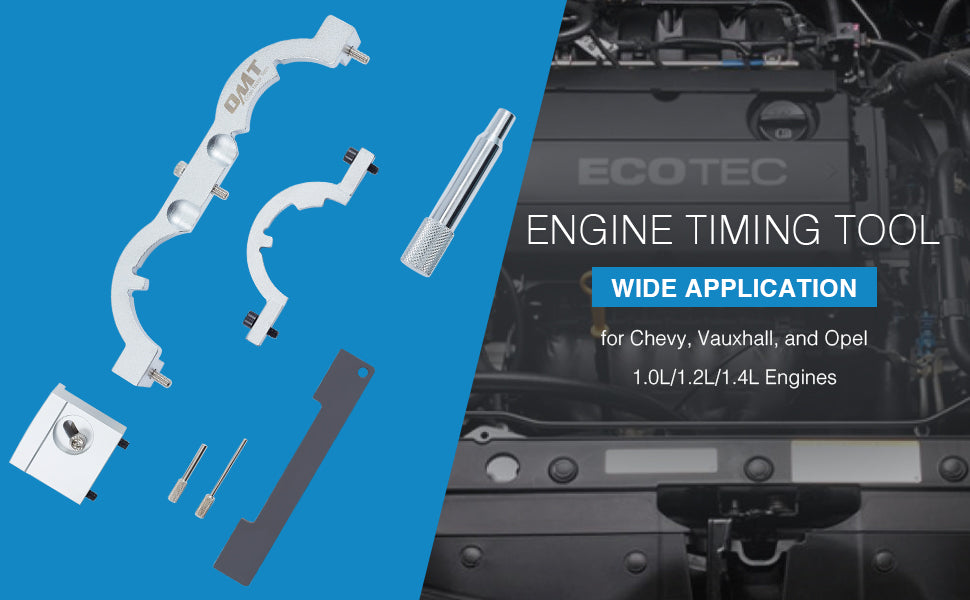 Orion Motor Tech Engine Timing Tool Kit
Off-road weekend warriors, novices, and professional mechanics trust the Orion engine timing tool kit because Orion Motor Tech sources the highest quality components from around the world. Constructed from high-impact machined aluminum for maximum strength and longevity that resists rust and corrosion.

Use the Orion Motor Tech Engine Timing Tool Kit to effortlessly help your car engine accurate timing. The Orion Kit fits hundreds of makes and models.

Conveniently organized in a compact carry case, it cleans up easy and keeps organized.
| | | |
| --- | --- | --- |
| The camshaft locking plate replaces OEM No. EN-953-A. Its thick 45# steel plate provides strength and durability while its black-oxide finish gives you corrosion-free performance. | Our locking pins replace OEM No. EN-952, KM-955-2, and EN-955-1. Made from 45# structural steel, they are heat-treated and galvanized to provide great resistance to wear and corrosion even in punishing environments. | Our low-tolerance threading gives you long use with convenient installation and removal every time. |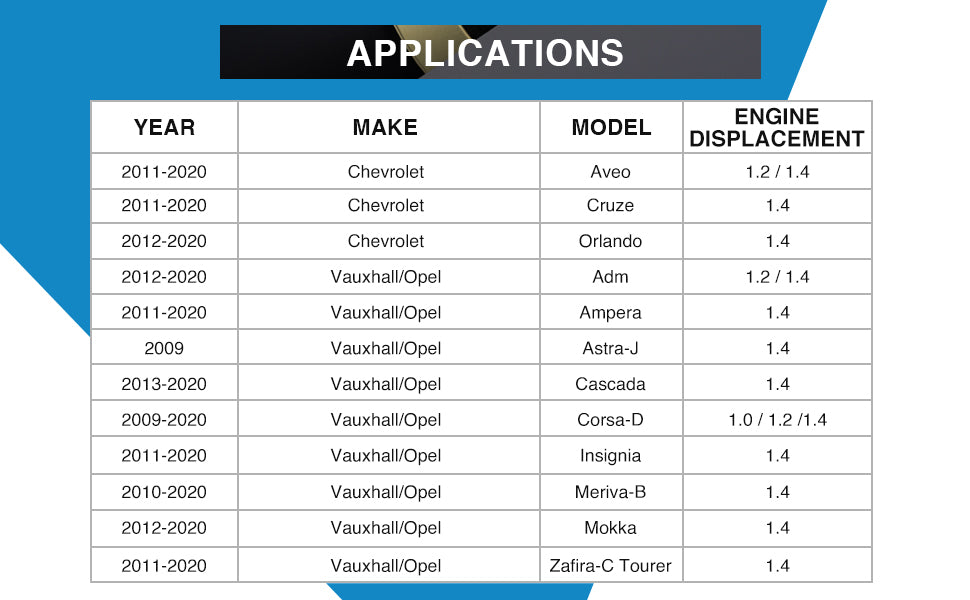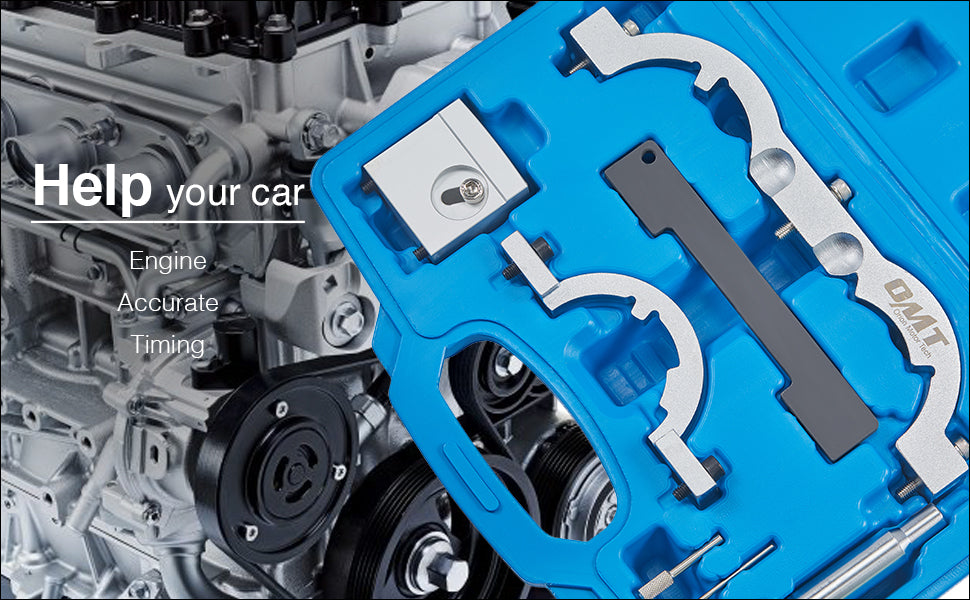 The OEM-equivalent tools in this set are compatible with the 1.2 and 1.4L 2011-2020 Chevrolet Aveo, 2011-2020 Chevrolet Cruze, and 2012-2020 Chevrolet Orlando. Our tool kit also works with a wide variety of 1.0, 1.2, and 1.4L Vauxhall and Opel vehicles: the 2012-2020 Adam, 2011-2020 Ampera, 2009 Astra J, 2009-2020 Corsa D, 2013-2020 Cascada, 2011-2020 Insignia, 2010-202 Meriva B, 2012 -2020 Mokka, and 2011-2020 Zafira Tourer C. This covers engine codes LWD, L2Z, LDD, LUU/A14XFL, LDD/A14XER, LDD/A14XEL, LUJ/114NET, LUJ/A14NEL, A10XEP, A12XEL, A12XER, A14XEL, A14XER, A14NEL, LUJ/A14NET, LDD/A14XER, LUJ/A14NET, LUH/A14NEL, LUJ/A14NET, LUJ/A14NEL, L2Q/A12XEL, LDC/A12XER, LWD/A12XEL, LDD/A14XEL, and LDD/A14XER.
Specifications
Case Dimensions: 13.0 x 12.6 x 9.8 inches (33x32x24.9 cm)
Net Weight: 19.29 lb. (8.75 kg)
Warranty: 1 year
Package List
1 x Crankshaft Locking Pin, equivalent to OEM No. KM-952 EN-952
1 x Camshaft Locking Plate, equivalent to OEM No. KM-953-A EN-953-A
1 x Camshaft Sensor Locking Tool, equivalent to OEM No. EN-499-78 EN-499-78
1 x Camshaft Sensor Locking Tool, equivalent to OEM No. EN-49977-100 EN-49977-100
1 x Inlet Camshaft Adjustment Tool, equivalent to OEM No. EN-49977-200 EN-49977-200
1 x 2.5 mm Chain Tensioner Locking Pin, equivalent to OEM No. KM-955-2 EN-955-2
1 x 4 mm Chain Tensioner Locking Pin, equivalent to OEM No. KM-955-1 EN-955-1
Customer Reviews
One of the pins bent on me