Features:

Universal Hose Pliers Set: Includes long-reach cabled hose clamp pliers, Clic-R type collar pliers, swivel jaw band clip and spring wire clip pliers, regular and angled flat band hose clamp pliers, hose removal pliers, a dual-headed screwdriver, and a hose hook for fuel, oil, and water hose repair, removal, and replacement in the car, truck, and motorcycle engines.
Perfect Fit: Having purpose-built tools will eliminate time-consuming workarounds and jerry-rigging, making your hose work a breeze. This hose clamp toolbox set works with plastic and metal hose clamps from 11/16 inch to 2 1/2 inches.
Locking Design: The 5 spring-clamp pliers are capable of locking in place to free your hands and speed up your repair work.
Durable & Easy to Use: If this kit seems overwhelming, amateur mechanics can use the included instructions to work out what to use where. For pros, the sturdy blow-molded case keeps things organized and portable; the tough plastic handles reduce fatigue during use; and the black-oxide finish staves off rust and corrosion, allowing you to enjoy these carbon structural steel tools for years to come.
Satisfaction Guaranteed: Order now, knowing your tool kit is backed by OMT's warranty and friendly customer service.

Multi-Functional Hose Clamp Plier Set with 7 Unique Pliers
Ergonomically designed to avoid discomfort and cramps on long jobs.

Accommodates clamps from 11/16 to 2 1/2 inches.

Each pair of pliers is heat-treated and coated with black oxide for durability and corrosion resistance.

Unique locking mechanism keeps your hands free for quick work.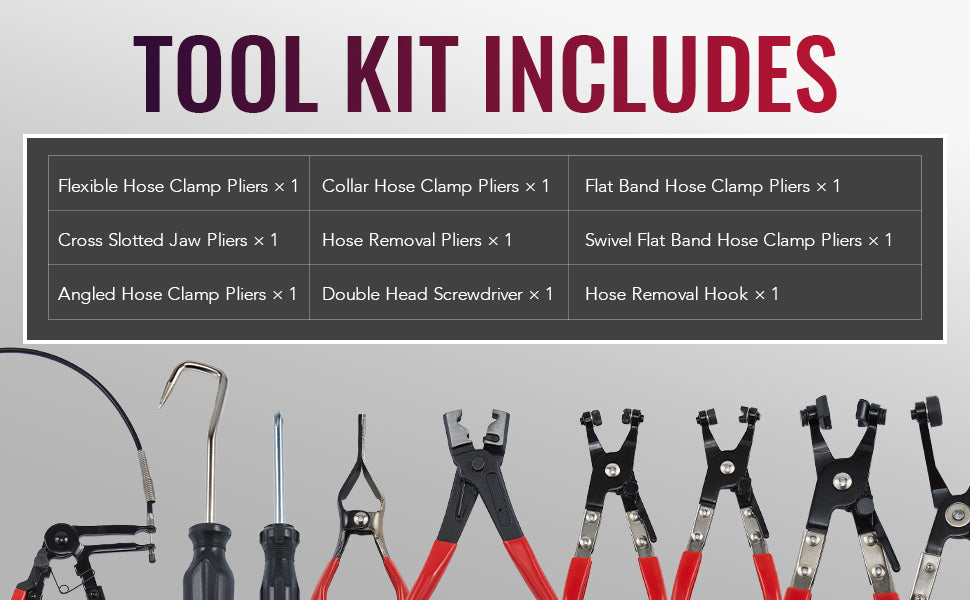 Keep your hands free for the tougher parts of the job, letting you complete your work in record time.




Designed for comfort while remaining sturdy and tough, this plier set is great for professional and amateur mechanics.




Each pair of pliers is heat-treated for durability and protection against extreme temperatures.
They are also blackened with a black oxide coat to avoid corrosion.
Customer Reviews
09/30/2021
Jason B.

United States