Features
LEVEL 2 CHARGER:

 

Orion Motor Tech's portable electric car charger offers 110-250V and 10-32A to rejuvenate your J-plug electric vehicle with up to 7.2 kWh of juice, 5x faster than most cars' default chargers
RUGGED DEPENDABILITY:

 

Our heavy-duty EV charger's ABS shell can handle the weight of your vehicle and continue to provide IP67 waterproof service indoors or out; the premium control circuitry protects your car against irregular grids and even lightning strikes, handing insufficient, excessive, and unstable frequency, voltage, and current as well as eliminating any overheating, improper grounding, or earth leakage
CONVENIENT OPERATION:

 

The LED screen offers you complete charging status and lets you monitor power, current, voltage, temperature, and session length in real time; the ergonomic handle offers sure and comfortable grip at all times; the extra-long cord lets you recharge from within 25 feet of any NEMA 14-50 outlet; and everything stows away neatly into the provided storage bag between uses
WIDE COMPATIBILITY:

 

This mobile EV charging station works for all SAE J1772 compatible electric cars and offers rapid stable charging compatible with models from Tesla, Chevrolet, Ford, BMW, Mercedes-Benz, Toyota, Honda, Nissan, Ferrari, and more!(excluding Renault Zoe and BMW X5 Hybrid)
SATISFACTION GUARANTEED: CE & TUV certified, this portable charger by Orion Motor Tech is backed with our usual strong warranty and friendly 24/7 customer service, ensuring that you'll enjoy its use rain or shine for years to come!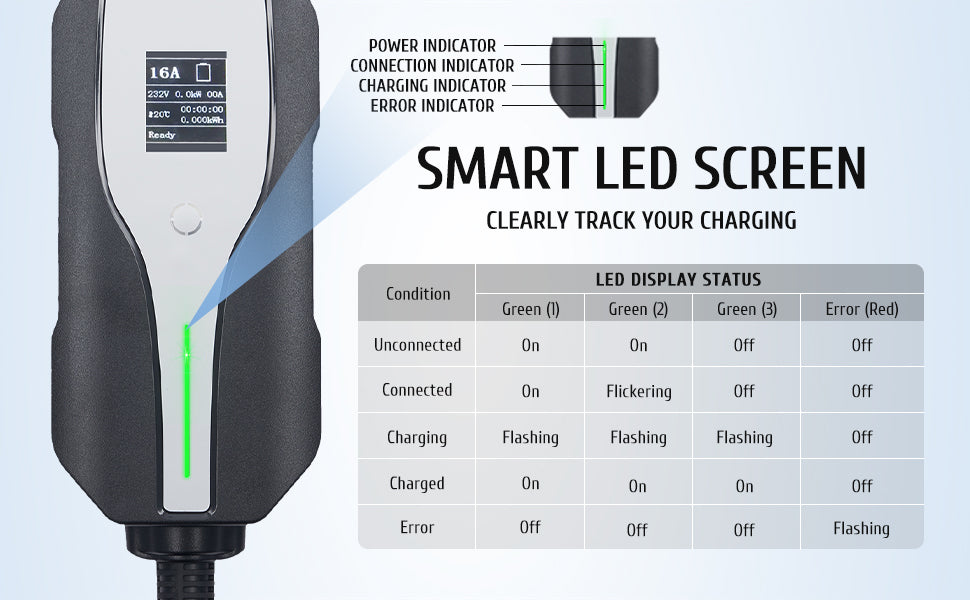 | | | |
| --- | --- | --- |
| Our socket pins are constructed from copper alloy and plated with silver for superior conductivity. | Rated IP67 and able to work at −20°C, our charger's rugged ABS shell has passed roll tests and withstands the full weight of a car. | Our hand-held design is comfortable to use, and the rubber cover keeps water and dirt out. |
| | | |
| --- | --- | --- |
| Our NEMA 14-50 plug guarantees safe charging, with extensive protection against any current instability. | The internal circuit board's precise engineering automatically senses and fixes any potential problems during charging. | Enjoy stable and efficient charging while resisting heat, humidity, and sparks. |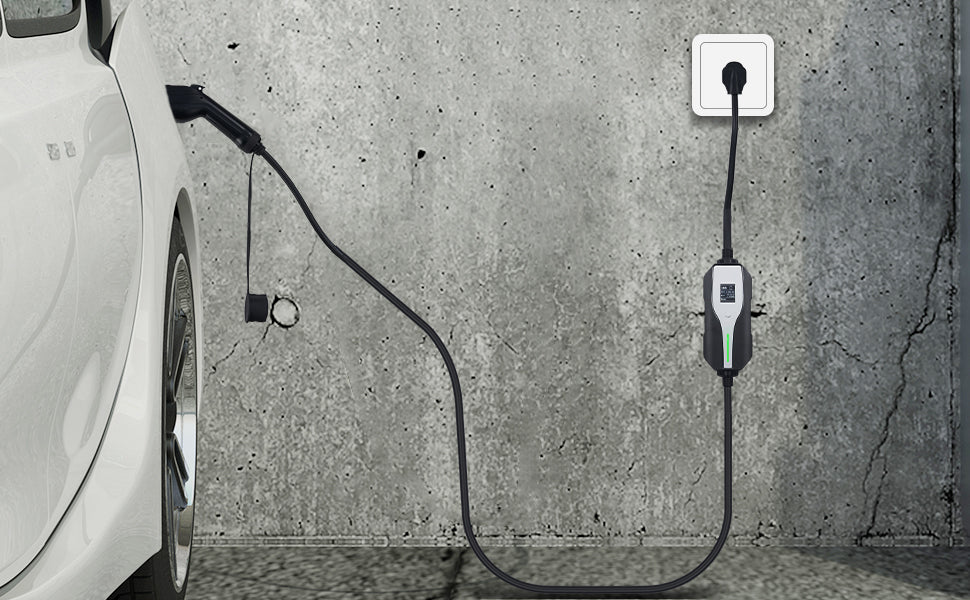 Orion Motor Tech's level 2 EV charger is here for you. Designed for electric cars using the J-plug (SAE J1772) standard, this portable NEMA 14-50 charger is compatible with electric models from Tesla, Chevrolet, Ford, BMW, Mercedes-Benz, Toyota, Honda, Nissan, Ferrari, and more. Adjustable between 110 and 250 volts and 10 to 32 amps, this car charger offers a maximum charging speed of 7.2 kW per hour, getting you at least another 23 miles for each hour. The precision engineering of the internal circuit board allows automatic detection and correction of any problems during charging, including any issues with minimal, unstable, or excessive voltage, current, frequency, earth leakage, and temperature even during lightning and electrical storms. The 25 foot cord allows easy recharging even 8 yards from your NEMA 14-50 outlet.
Charge more quickly and with greater security with this handy charger from Orion Motor Tech!
Annoyed with the slow charger that came with your car? Nervous about its ability to handle irregular power on your grid?
Standard Technical Specifications
| | |
| --- | --- |
| Material | ABS, Copper, Copper Alloy |
| Plug Format | NEMA 14-50 (J1772) |
| Cord Length | 25 ft. (7.6 m) |
| Current Levels | 10A, 16A, 20A, 24A, 32A |
| Rated Power | 7.2 kw |
| Operating Voltage | 110V-250V |
| Rated Voltage | 2000V |
| Rated Frequency | 50-60 Hz |
| | |
| --- | --- |
| Max. Contact Resistance | 0.5 mΩ |
| Waterproof Level | IP67 |
| Operating Temperature Range | -13 to 131 F (-25 to 55 C) |
| Storage Temperature Range | -40 to 176 F (-40 to 80 C) |
| Certification | TUV, CE |
| Plug Dimensions | 10.4 x 3.9 in. (26.5x10 cm) |
| Control Box Dimensions | 10.4 x 3.9 in. (26.5x10 cm) |
| Net Weight | 6.2 lb. (2.8 kg) |
Package List

1 x Portable NEMA 14-50 J1772 Charger
1 x Charging Plug Holder
1 x Storage Bag
1 x Instructions
Note: The following 2 models are not compatible: Renault ZoeY 50, BMW X5 Hybrid
Customer Reviews
Inexpensive in price but expensive in futures
This is the least expensive Level 2 32A charger in the current US market. It also comes with great futures that you may not find from other more expansive chargers. For example, it is adjustable in both amps(10, 16, 20,24 and 32A) and volts (110-250) so it is both a level 1 and level 2 charger. I have not tried 110v as it needs an adapter and I am not sure how it can properly handle 24A and 32A but, in 240v, adjustable amps worked great for me. Running at 32A, I afraid that my breaker got little too hot so I adjusted it to 24A and it worked great. It is also IP67 rated so it is supposedly an indoor/outdoor charger. I tried another adjustable charger, Lectron 240V-32 Amp, Level 2 EV Charger, which got great reviews on Amazon. Since there is little reviews on this charger, I was little hesitate but at the end, I kept the Orion charger. Here is why: 1) While both are adjustable in amps, Lectron can do 10,13, 16, then jumps to 32A. Orion's 10,16, 20, 24, and 32A are much more useful. 2) Orion has longer cable (25ft vs 21ft) 3) Lectron is not IP rated. 4) Lectron does have think cable but Orion's cable does not get hot (or even warm) during charge so thinner cable will be easier to handle (see next point). 5) Lectron comes with a nice case but hard to fit the charger in. Orion's case looked cheap but easier to fit the charger in, due to it shape and thinner cable, too. 6) Orion is $60+ cheaper. My only concern is if the charger will be durable and reliable. Only the time can tell. I also wish it comes with a 14-50 to 6-20 adapter so it can be used as a level 1 charge as advertised