Features:

SAE 9/16-18 Lug Nuts (32 nuts + 1 socket) designed for ① 1994-2011 Dodge Ram 2500 3500, 1988-1998 Ford F-250 F-350 with 8x6.5 bolt pattern & 9/16 bolts aftermarket wheels | ② 2002-2011 Dodge Ram 1500

bolt pattern

, 2004-2009 Dodge Durango, 2005-2011 Dodge Dakota with 5x5.5 bolt pattern & 9/16 bolts aftermarket wheels.

This is a 60 degree cone/ conical seat style wheel lug nuts set, will not fit all mag seat with washer or ball seat style wheels, check before purchase.

Overall length 1.9", extra long lug nuts set is deep enough to fully tighten onto the wheel lug before it bottoms out.

Triple silver plating with essential layers of copper-nickel and chrome to provide exceptional strength beauty and corrosion resistance. Manufactured with cold-forged and heat-treated steel for dependable strength and durability, paint will not fall off easily.

ORION MOTOR TECH offer 2 Years Warranty and full money-back guarantee. If you are not satisfied with this product or if you have any questions, please feel free to contact us. We would like to issue a full refund if finally we could not resolve your problem or you are not satisfied with the result.

Lug nuts are some of the most important hardware on your vehicle, holding the wheels tight to your car or truck in summer and winter come rain or shine.
Orion Motor Tech takes that responsibility seriously, engineering these quality lug nuts for precise threading, exact fit, and superior strength and corrosion resistance. These unsung heroes will be doing their quiet work for years thanks to their first-rate Q235 steel, which has been cold forged and heat treated for extra toughness and longevity. Chrome plated for corrosion-free performance, they meet and even exceed OEM equivalents and can be used in any climate. Installed in a snap, these lug nuts will safeguard your vehicles for years to come. Not for use with power tools.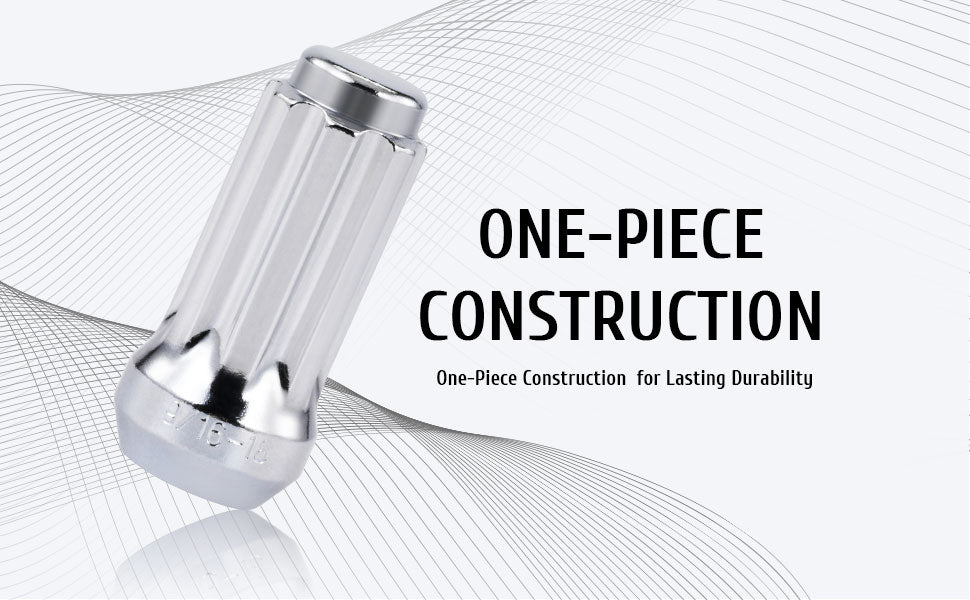 This set of 32 wheel nuts have 60° conical/tapered/acorn seats, 9/16"-18 thread size, 21mm and 22mm socket hex size. They measure 2 in. by 0.91 in. and fit a wide variety of vehicles compatible with 1986-1997 Ford F-350s, 1992-1996 Ford F-250s, and 1999-2015 Ford Super Duty E-350s; 1994-2010 Dodge Ram 2500s and Dodge Ram 3500s; and MORE.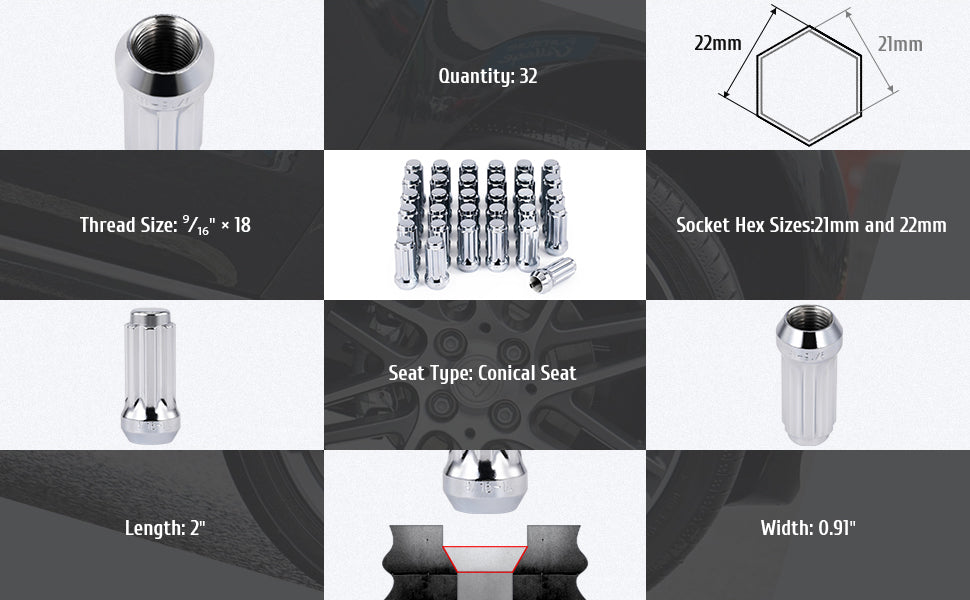 Specifications
Material: A3 Steel, Chrome
Color: Chrome
Length: 2" (5.1 cm)
Width: 0.91" (2.3 cm)
Angle: 60°
Thread Size: 9/16"x18
Socket Size: 13/16" (21 mm)
Seat Type: Conical
Warranty: 1 Year
Package Includes
32 x Lug Nuts
1 x Socket
1 x Instructions
Customer Reviews
11/03/2021
Mike

United States
Awesome Product!!!
I bought these lug nuts for my 84 bullnose, and they work great! They look good, torque well, and are very well made. I will definitely buy again if ever needed. I definitely recommend this product!!