Features
SET OF 32 LUG NUTS: This package includes 32 Orion Motor Tech 14mm x 1.5 lug nuts with a 60° conical seat (2" high by 0.91" wide), a socket, and instructions for use to get all your wheels back on the road as soon as possible
WIDE APPLICATION: These 14mm x 1.5 wheel nuts fit 13/16" and 21mm hex wrenches to work on a wide range of models (see above for full and exact fitment information)
CHROME-PLATED A3 STEEL: Our cone lug nuts are each made from a single piece of premium A3 steel that has been cold-forged and heat treated for superior strength and longevity; their chrome plating further improves their corrosion resistance
PRECISION ENGINEERED: To ensure your safety, our lug nuts are manufactured and tested at the highest standard to meet and even exceed OEM quality and performance at a fraction of their price
SATISFACTION GUARANTEED: Orion Motor Tech backs these parts with its usual strong warranty and friendly 24/7 customer service, ensuring that you'll enjoy their use for years to come

Lug nuts are some of the most important hardware on your vehicle, holding the wheels tight to your car or truck in summer and winter come rain or shine.
Orion Motor Tech takes that responsibility seriously, engineering these quality lug nuts for precise threading, exact fit, and superior strength and corrosion resistance. These unsung heroes will be doing their quiet work for years thanks to their first-rate Q235 steel, which has been cold forged and heat treated for extra toughness and longevity. Chrome plated for corrosion-free performance, they meet and even exceed OEM equivalents and can be used in any climate. Installed in a snap, these lug nuts will safeguard your vehicles for years to come. Not for use with power tools.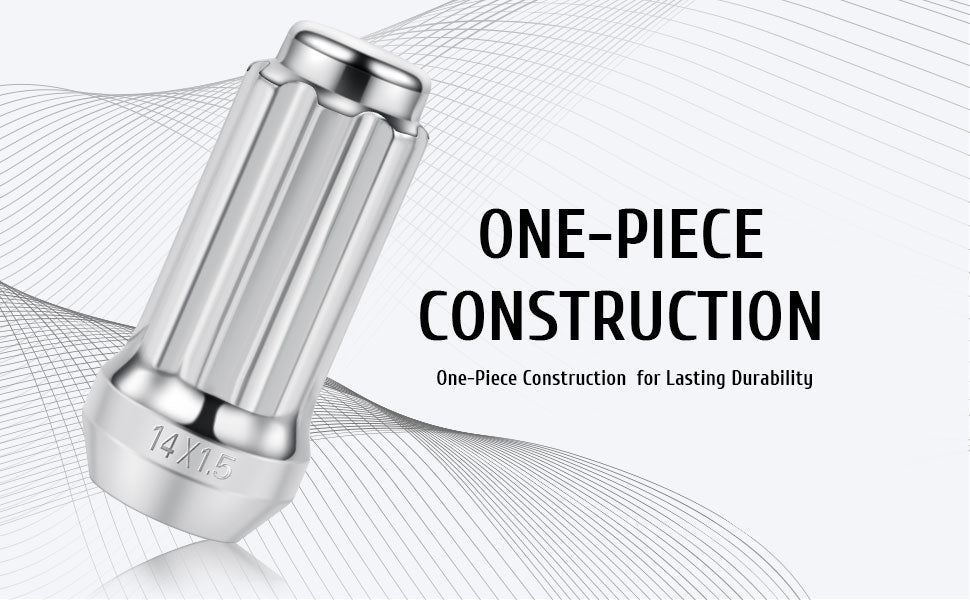 This set of 32 wheel nuts have 60° conical/tapered/acorn seats, M14x1.5 thread size, 21mm and 22mm socket hex size. They measure 2 in. by 0.91 in. and fit a wide variety of vehicles compatible with 2001-2006 Chevrolet Silverado 1500 HDs, 2001-2020 Chevrolet Silverado 2500 HDs, and 2001-2006 Chevrolet Silverado 3500s; 2003-2020 Ford Super Duty F-250s and Ford Super Duty F-350s; 2012-2019 Ram 2500s and Ram 3500s; and MORE.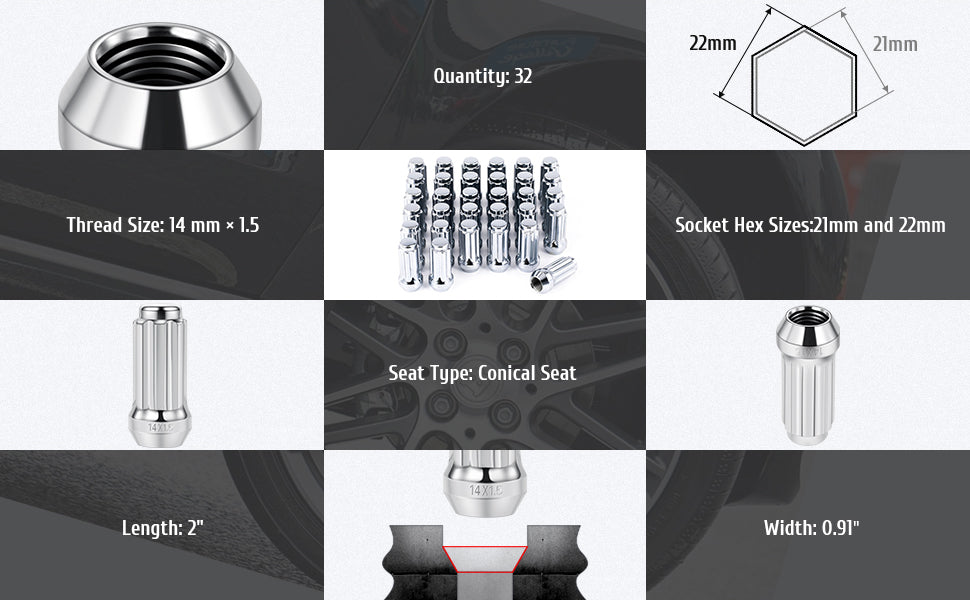 Specifications
Material: A3 Steel, Chrome
Color: Chrome
Length: 2" (5.1 cm)
Width: 0.91" (2.3 cm)
Angle: 60°
Thread Size: 14mm x 1.5
Socket Size: 13/16" (21 mm)
Seat Type: Conical
Warranty: 1 Year 
Package Includes
32 x Lug Nuts
1 x Socket
1 x Instructions