Features:
M14x1.5 Lug Nuts : Extended 14mm tuner aftermarket wheel lug nuts featuring 14x1.5 thread pitch, 2" (50mm) tall & 0.91"(23mm) width, classic spline drive, closed end, bulge body, 60 degree cone / conical / tapered seat.
32PCS Lug Nuts : Totally 32pcs 14mmx1.5 lug nuts, designed for super duty 8 lug 8x170 and 8x6.5 bolt pattern wheels or rims trucks, compatible with 2003 2004 2005 2006 2007 2008 2009 2010 2011 2012 2013 2014 2015 Ford F250 / F350 Super Duty, 2002-2006 Chevrolet Silverado 1500 1500HD, 99 00 01 02 03 04 05 06 70 08 09 10 Chevy Silverado 2500 3500 2500HD 3500HD and GMC Sierra HD 1500 2500 3500 in 2001-2010.
Black Lug Nuts : Manufactured with cold forged and heat treated steel for dependable strength and durability, paint will not fall off easily.
All-in-one Nuts Set : Includes everything you need for a fast & effective replacement of rim hub lug nuts on the after-market wheels, comes with 32pcs (8lug x 4wheel) 14 x 1.5 black lug nuts, 1 heavy duty nuts socket - 13/16"(21mm) and 7/8"(22mm) Hex.
ORION MOTOR TECH: We pursue outstanding quality and technical support. If you are not satisfied with this product or if you have any question, please feel free to let us know.

Lug nuts are some of the most important hardware on your vehicle, holding the wheels tight to your car or truck in summer and winter come rain or shine.
Orion Motor Tech takes that responsibility seriously, engineering these quality lug nuts for precise threading, exact fit, and superior strength and corrosion resistance. These unsung heroes will be doing their quiet work for years thanks to their first-rate Q235 steel, which has been cold forged and heat treated for extra toughness and longevity. Blackened for corrosion-free performance, they meet and even exceed OEM equivalents and can be used in any climate. Installed in a snap, these lug nuts will safeguard your vehicles for years to come. Not for use with power tools.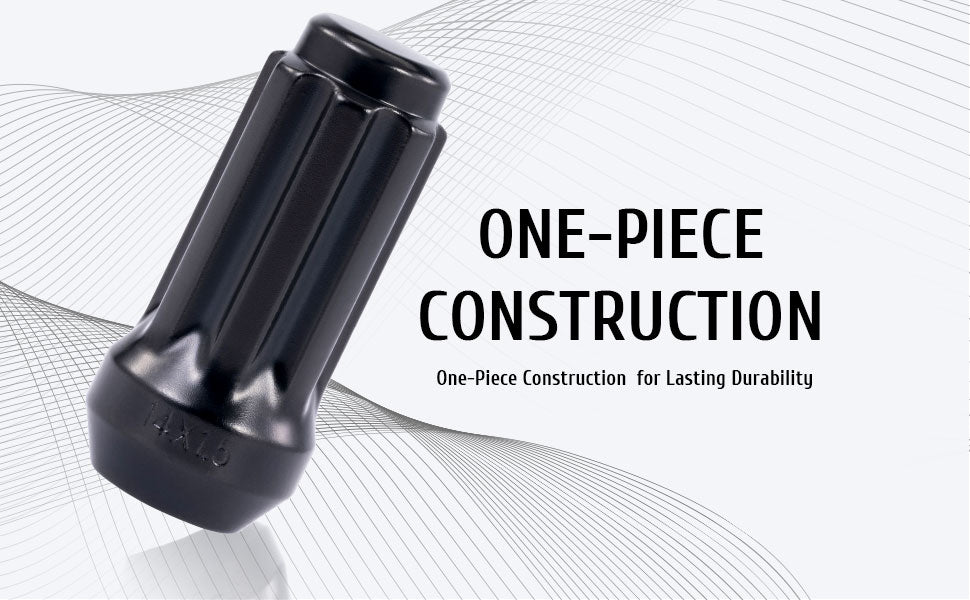 This set of 32 wheel nuts have 60° conical/tapered/acorn seats, M14x1.5 thread size, 21mm and 22mm socket hex size. They measure 2 in. by 0.91 in. and fit a wide variety of vehicles compatible with 2001-2006 Chevrolet Silverado 1500 HDs, 2001-2020 Chevrolet Silverado 2500 HDs, and 2001-2006 Chevrolet Silverado 3500s; 2003-2020 Ford Super Duty F-250s and Ford Super Duty F-350s; 2012-2019 Ram 2500s and Ram 3500s; and MORE.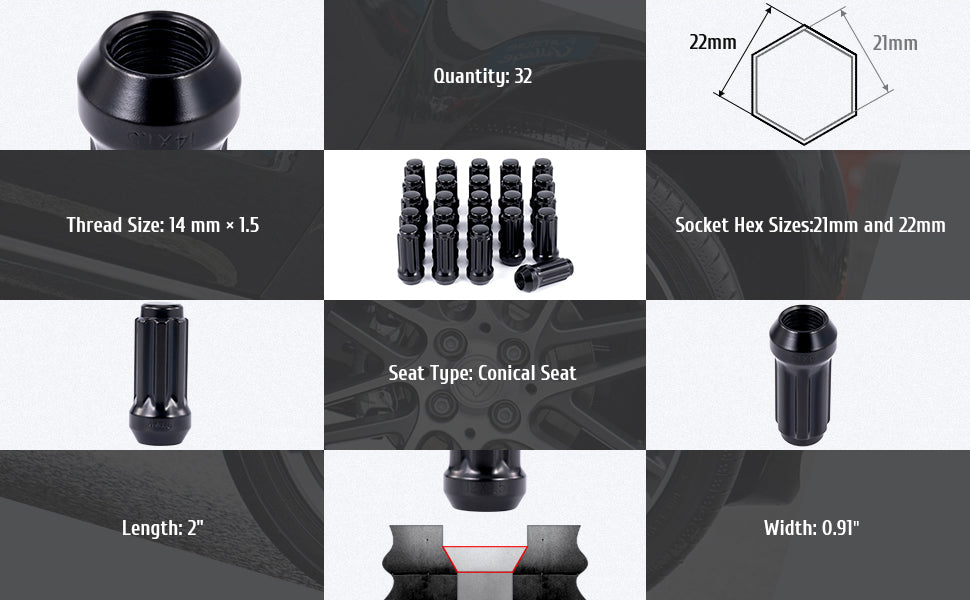 Specifications

Material: A3 Steel, Black Oxide

Color: Black

Length: 2" (5.1 cm)

Width: 0.91" (2.3 cm)

Angle: 60°

Thread Size: 14mm x 1.5

Socket Size: 13/16" (21 mm)

Seat Type: Conical

Warranty: 1 Year

Package Includes

32 x Lug Nuts

1 x Socket

1 x Instructions

Liquid error: Error in tag 'section' - 'product-risk' is not a valid section type