Features:
Specifications: Bolt Pattern: 5x4.5"(vehicle) to 5x4.5"(wheel). Thread Pitch: 1/2"-20. Hub Bore: 82.5mm. Thickness: 1". Quantity: 2 pieces.
Compatibility: Fit 1982-2012 Ford Ranger, 1990-2017 Ford Explorer, 1994-2014 Ford Mustang, 1997-2006 Jeep Wrangler TJ, 2002-2012 Jeep Liberty KJ KK, 1993-1998 Jeep Grand Cherokee ZJ, and more (see product description section for complete list).
Enhance Stability Handling: Give your vehicle a more aggressive stance while improving handling and stability. Increase tire clearance, fix brake caliper clearance issues, install lift/lowering kits and wider, larger, or high-traction tires.
Increased Safety: Precision-machined 6061-T6 aircraft-grade aluminum billet with heat-treated and hardened 10.9-grade bolts pre-installed. Anodized surface for additional corrosion resistance. Exceptional strength and durability.
3-Year Warranty: We offer a 3-year warranty for this full set (spacers, bolts, and nuts). Please reach our helpful service representatives if you have any questions or concerns.

5x4.5" (114.3mm) to 5x4.5" (114.3mm) PCD (Vehicle/ Wheel Bolt Pattern), 1/2"-20 Thread Pitch (34 ± 0.3 mm Thread Length), 3.25" (82.5mm) Hub Bore, 2pcs 1"
ORION MOTOR TECH WHEEL SPACERS will widen your car's wheelbase, improving grip, handling, and precision. Developed in a special aluminum alloy through an innovative forging technology, afterward, they are wrought with a CNC machine (computer numerical control) to obtain the perfect coplanar surface. They are heat-treated to increase the mechanical resistance and next they are anodized to get oxidation protection. The wheel spacers increased the track improving the driving precision.
PACKAGE INCLUDES:
2 x wheel spacers (1.0" per unit)
1 x user manual.
PLEASE MAKE SURE:
1.

 

Spacers' PCD/ Bolt Pattern 5x4.5" (114.3mm)

 

= Your Vehicles' / Wheels'
2.

 

Spacers' Thread Pitch 1/2"-20

 

= Your Vehicles' / Wheels'
3

. S

pacers' Thread Length 34 ± 0.3 mm

 

>= Your Vehicles'
4

. S

pacers' Hub Bore 3.25" (82.5mm)

 

>= Your Vehicles'
OR

 

check the model compatibilities below.
IMPORTANT NOTES:
Professional installation recommended. Alignment is necessary after installation, this will prevent any wobble and vibration from occurring. Avoid an impact wrench; improper usage may cause lug nuts/bolts to break or loosen while driving, it will take potentially accident or injury. Make sure you get 5-7 turns before tightening. Retorque all lug nuts/bolts after 25-50 miles of driving, then again 1-2,000 miles. The back of the adapter must sit flush against the vehicle's hub. No rust on the inner of hub and wheel while installing the Hub centric wheel spacers. If the studs do pass the face of the adapter, you will need to grind/cut them shorter. (This only applies to 1.5" adapters & smaller).

WARNING: Check the recommended vehicle compatibility/fitment. Do not risk installation on inappropriate vehicles.
COMPATIBILITIES:



FORGED 6061-T6 ALUMINUM

Widely known for strength and lightweight, this premium material is sure to withstand even the most extreme environments.




EASY BOLT-ON INSTALLATION

Simply bolts the wheel spacer/adapter to your hub, then bolt your wheel to the spacer. No vehicle modification is required.




10.9 GRADE HARDENED BOLTS

Forged, heat-treated, and hardened 10.9 (SAE Grade 8) wheel bolts deliver strength and corrosion resistance.
Customer Reviews
07/10/2022
kimberly c.

United States
1" wheel spacers
I used these to install late model Mustang wheels on a 1964 Ford Falcon. These worked perfectly. Would buy again.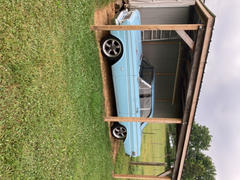 06/19/2022
Tim S.

United States
Love the Spacer But...
Spacer/s were purchased for front/rear of a 1957 Studebaker Golden Hawk car that a full disc brake conversion is being done one w interest to use OEM steel tire rims. Prior to the purchase, rims hit the new calipers. A static assemble over the 1/2-20 thread studs found both the 5/8 I.D. holes to secure in the 1 in spacers & the rotor 9/16 I.D. holes meant a "loping" took place. No vendor was available to find a spacer to interact between the new rotor and new 1 inch spacers and led to my machining 10 mini spacers necked down from 5/8 (0.625) to just under 9/16 to eliminate the wobble/loping. The spacers purchased came quickly, look awesome, have wheel nuts over studs mounted and the price was nice. The "only" drawback is that the mounting holes over the 1/2-20 thread that is 5/8 in the spacer....if it were 9/16 and a choice was there for a 9/16 I.D. mounting hole I would have bought those instead. In my application not just a mount and serve. It has meant over 2 weeks of additional searching and finally machining extra parts to make my project complleted.