OMT Front End Service Kit Features:
All In One Front End Service Kit: Containing 5 adjustable tools for a wide range of domestic and import vehicles. Comes with 1x Ball Joint Separator, 1x Tie Rod and Ball Joint Puller, 1x Conical Pitman Arm Puller, 1x Pitman Arm and Tie Rod End Puller, 1x Pitman Arm Puller, 1x well-organized ABS case.
Hardened Alloy Construction: Extraordinarily tough and durable alloy means these tools can stand up to the toughest jobs. This front end service tool kit can remove the most stubborn ball joints, tie rod ends, and pitman arms.
Universally Compatible With A Wide Range of Vehicles: The versatile design allows this tool to be used as a pitman arm remover, ball joint separator, or tie rod end puller for many small, domestic rear-wheel-drive vehicles, import vehicles, and light trucks.
Professional Portable ABS Case: The custom-molded case is crafted from high-quality ABS hard plastic for the amateur or professional mechanic on the go. Conveniently keeps all your tools in one organized and secure place. Never miss out on a job or project from a misplaced tool.
Orion Motor Tech Promise: If any issues from our tools arise please don't hesitate to contact us. We guarantee the quality of our tools and want to ensure you're only getting the best. Because to do perform your best, you deserve the best, that's our Orion Motor Tech Promise.

Orion Motor Tech Ball Joint Tool 5-in-1 Front End Service Kit
Professionals to home garage mechanics trust the Orion name because Orion Motor Tech sources the highest quality components from around the world. Constructed from heavy-duty materials for maximum strength and longevity that resists rust and corrosion.
This ball joint service kit comes fully stocked with 5 pullers to fit hundreds of makes and models including most American, European and Japanese vehicles.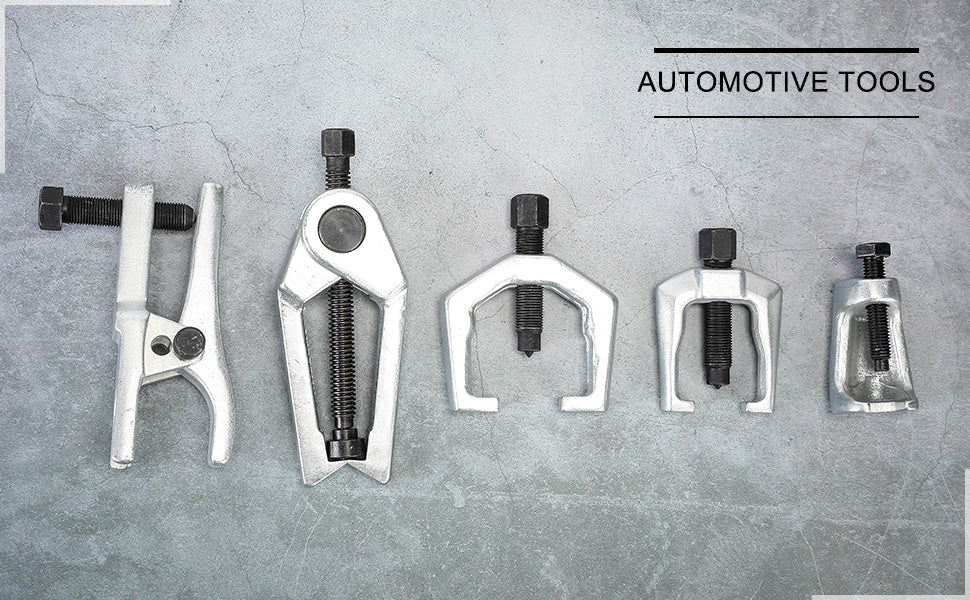 Conveniently organized in a compact carry case, it cleans up easy and keeps your adapters and thrust bolts organized.

Still looking for a long-lasting compression test gauge kit?
Our tools are made of incredibly strong materials, standing up to heavy use or accidental drops - perfect for professionals or home garages.
Afraid it might not be compatible with your vehicle?
No worries. Give it a try and if you realize you have one of the few vehicles that it doesn't fit, please don't hesitate to reach out to our team.
PERFECT FOR: most compact cars, mid-size cars and light pickup trucks.
NOT SUITABLE FOR: Most full-size cars, mid-size and full-size pickup trucks.
Package Content

1x Ball Joint Separator

1x Tie Rod And Ball Joint Remover

1x Conical Pitman Arm Puller

1x Pitman Arm And Tie Rod End Puller

1x Pitman Arm Puller

Pitman Arm and Tie Rod End Puller

This versatile tool can be used as a pitman arm remover for many small, domestic rear-wheel drive vehicles, or as a tie rod end puller for many domestic and import vehicles. The jaws, with a spread of 1", give a secure positive grip in tight workspaces.

1-1/8" jaw spread, 2-1/8" throat depth

Pitman Arm Puller

This puller will handle nearly any pitman arm job on passenger cars and light trucks. It features special forged jaws, shaped to fit most models, keeping a solid grip while you work.

1-11/32" jaw spread, 2-1/2" throat depth
Conical Pitman Arm Puller

Designed to fit securely on Pitman arms for compact and mid-size cars.

3/4-16 x 4-3/4" forcing screw provides enough power to remove stubborn pitman arms.

Ball Joint Separator

For separating the ball joint from the spindle support arm on domestic and import front wheel drive vehicles adjustable for different size ball joints

1-1/8" & 2-1/8" (30 & 56mm) maximum opening capacity

7/8" jaw spread, 2-1/4" throat depth

Tie Rod and Ball Joint Remover

A universal heavy-duty puller that removes a wide range of tie rods and ball joints from a variety of cars, trucks, SUVs and heavy-duty vehicles.

0 to 2-1/2" jaw spread, 3-1/4" throat depth