Features:
Metric Ratcheting Wrenches Set: This ratchet tool set includes 6 double-head wrenches covering sizes 8mm x 10mm, 9mm x 11mm, 12mm x 14mm, 13mm x 15mm, 16mm x 18mm, 17mm x 19mm.
Extra Long Xl Wrench Set: Up to 80% longer handles for more torque than standard length, perfect for hard to reach workspaces, set covering 24.4cm, 28cm, 33.4cm, 37.5cm, 40.5cm, 41.5cm.
Dual Head With Flex Box End: Box end heads pivot 180 degrees to get around obstructions quickly. Snug-fit hex-shaped fastener heads resist slipping off while you work.
High-Efficiency Ratchet Design: Classic 12 point, 72 teeth ratchet gear needs a minimum of 5-degree swing arc that is perfect for any professional mechanic tool set or home improvement jobs.
Heavy-Duty Chrome Vanadium Steel: These automotive hand tools are constructed from high strength chrome vanadium steel with corrosion-resistant and fingerprint-proof matte chrome finish for durability. It includes an EVA wrench organizer for easy storage & transport.

Orion Motor Tech Extra Long Flex-Head Ratcheting Box End Wrench Set
Fast, agile, and with extreme reach, the Orion Motor Tech 6-pc. Extra Long Flex-Head Ratcheting Box End Wrench Set includes all twelve sizes from 8 mm to 19 mm. This wrench set can be widely used for auto repair and maintenance, mechanic repair, pipeline repair, electrician repair etc.
Set includes 6 laser-etched wrenches packaged in a high-density foam tray: 8x10mm, 9x11mm, 12x14mm, 13x15mm, 16x18mm, 17x19mm.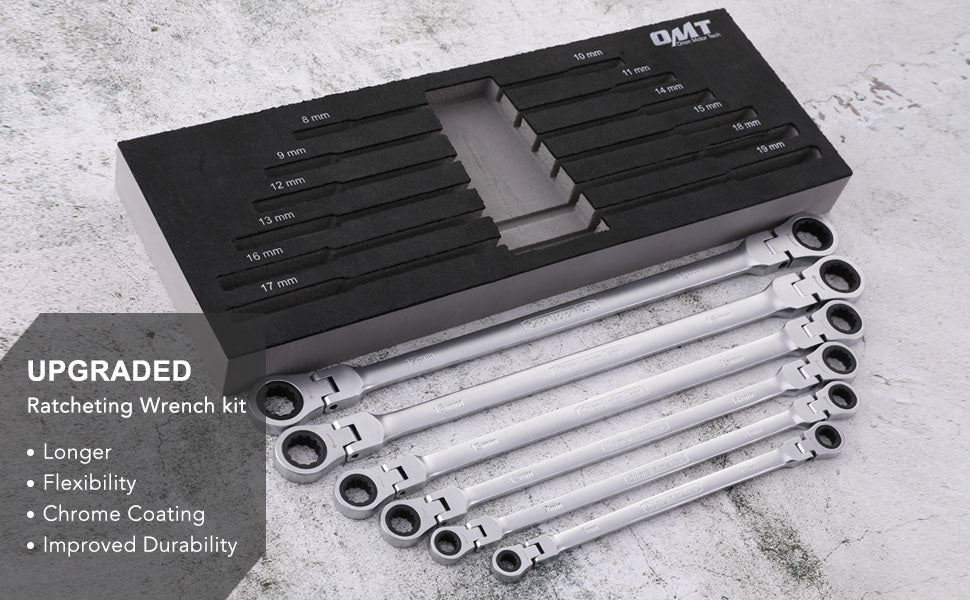 | | | |
| --- | --- | --- |
| 180-degree rotating flexible heads allow you to apply leverage at any desired angle and get around obstructions. | The wrench adopts a 12-point design to increase the contact with the bolt to provide a stronger grip. | 72-tooth ratcheting system for high torque and 5-degree swing arc for operation in tight areas. |
| | | |
| --- | --- | --- |
| The unique extra long design can increase the torque, which is easier and more labor-saving than other wrenches on the market. | The wrench is made of high strength chrome-vanadium steel, good toughness, waterproof and rustproof. | Wrenches with corrosion-resistant and fingerprint-proof surface matte chrome finish for durability. |