Features
* SAFE AND SECURE: This Orion Motor Tech wheel spacer kit will improve the cornering, stability, handling, and control of your all terrain vehicle by adding 4 inches to its axle track
* PREMIUM MATERIAL: These 4-wheeler wheel adapters are made from solid blocks of T6 aircraft-grade aluminum to keep them lightweight but highly durable and strong; the 16 Dacromat-coated 3/8"-24 bolts included are 7-10 times more corrosion resistant than the competition
* SUPERIOR DESIGN: Unique slots on the rear face of these ATV wheel spacers allow easier removal, reduce damage during use, and give you a longer service life
* WIDE COMPATIBILITY: This wheel adapter set fits many Polaris and Kawasaki ATVs from 1987 to 2012; see above for the complete fitment list of Polaris Rangers, Polaris RZRs, Polaris Sportsmans, Kawasaki KSF 250 Mojaves, and more!
* SATISFACTION GUARANTEED: Increase your axle track and stability today with your peace of mind assured by OMT's strong 2-year warranty and friendly 24/7 customer service

This set of 4 Orion Motor Tech wheel spacers works with many Polaris Ranger, RZR, and Kawasaki four-wheeler ATVs from 1987 to 2012. Two inches (50mm) thick, these powerful wheel adapters mount onto their 4x156 bolt pattern to let you add larger wheels or improve your old wheels' performance and handling, with excellent wheel balance and a more aggressive stance.
The 4 wheel spacers in this ATV accessory kit are made from aircraft-grade T6 billet aluminum, forged in a single piece give you lightweight strength with high corrosion resistance under even the most punishing use. The 16 provided bolts are also coated in Dacromat to provide corrosion resistance 7-10 times more powerful than our competition. Special slots on the rear face of these four-wheeler spacers also allow easier removal, reduce damage during use, and give you an even longer service life.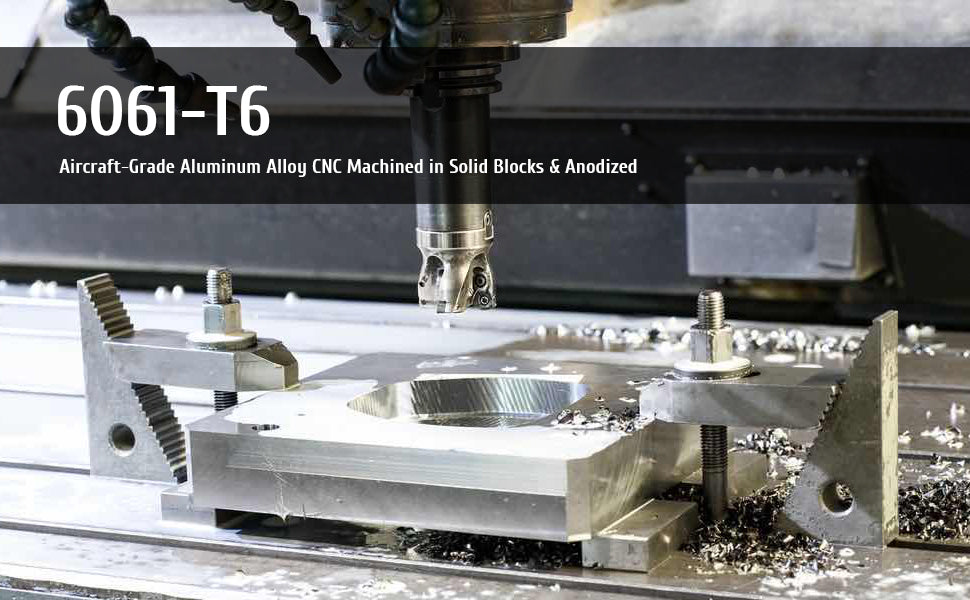 | | | |
| --- | --- | --- |
| Coated with Dacromet, these bolts are 7–10 times more corrosion resistant than their competition, surviving intense salt-water testing for weeks. | Besides its attractive black finish, the aluminum's anodic-oxide coating insulates it and gives it even greater resistance to wear and corrosion. | Four custom slots on the rear face of the spacer allow for easier installation and removal, while reducing damage during use. |

Specifications

| | |
| --- | --- |
| Vehicle Bolt Pattern | 4x156-4x156 |
| Thread Size | 3/8"-24 |
| Center Bore | 131 mm |
| Thickness | 2" |
| Hub Centric | No |
| Color | Black |

Fitment
To use this wheel adapter kit, make sure that your wheels' center bore is 5.2 inches or smaller; the bolt pattern on your vehicle and your tires is 4x156; and your quadricycle's studs protrude less than 2 inches. The fitment for these tough spacers includes:
Polaris Diesel 4x4 (1999-2006)
Polaris Ranger (1998-2009)
Polaris RZR (2008-2012)
Polaris Sportsman 335 4x4 (1999-2008), 400 (2001-2011), 500 (1996-2011), 600 (2003-2011), 700 (2002-2011), 800 (2005-2011)
Polaris Xplorer 500 (1996-2008)
Kawasaki 300B Lakota (1995-2000)
Kawasaki KSF 250 Mojave (1987-2006)
Kawasaki KXT 250 Tecate 4 (1987-1988)

Parts List
4 x 4x156-4x156 2in. Wheel Spacers
16 x Studs (3/8"-24)
1 x Tube of Adhesive
1 x Instructions


Liquid error: Error in tag 'section' - 'product-risk' is not a valid section type