Features
POWERFUL PUMP: This single-acting hydraulic pump can be vertically or horizontally mounted and produces 3 HP or 2200W of power with a max. relief pressure of 3200 psi (22 MPa) to enable other hydraulic tools for lifting, pressing, bending, straightening, cutting, and much more when bolted to your truck, dump truck, tow truck, RV, snow plow, or other vehicle.
BUILT TO LAST: This 12V hydraulic power unite is made of premium steel for high strength and durability, giving you a longer service life; the 8.5 qt (8L) translucent plastic reservoir is specially engineered to avoid cracks and leaks even under punishing treatment while the built-in dipstick lets you easily monitor the fluid level.
QUICK START & LOW NOISE: Our hydraulic pump starts fast, displacing 1.1 cc at 2850 rpm for a 0.83 gpm flow rate, quickly powering your tools and applications; the high-quality motor and pipes keep this machine to a low roar even as it's lifting your heaviest load.
SAFE OPERATION: The 15 foot pendant control lets you safely operate this power pump in a distance and the built-in safety valve overpressure unit protects your device against excessive pressure on the line during use.
SATISFACTION GUARANTEED: Order with your peace of mind assured thanks to strong warranty and friendly 24/7 customer service; try it at no risk and watch it power your devices for years to come!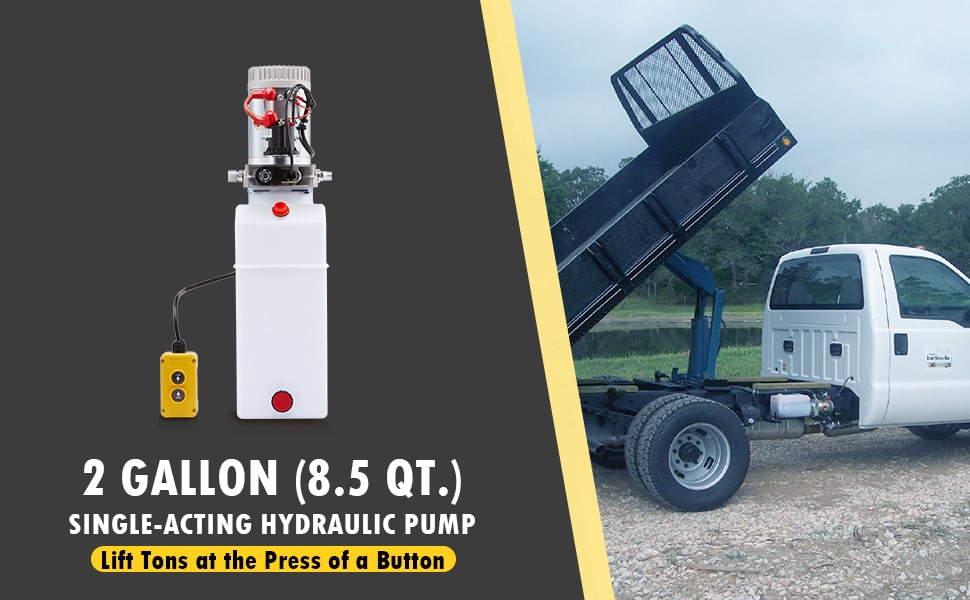 Hydraulic pumps are the industrial world's workhorses, powering applications from lifts to cranes to plows to earth movers.
Our single-acting hydraulic power unit is a compact but powerful tool for your needs. The 8.5-quart reservoir feeds a 1.1 cc displacement three-phase asynchronous 3 HP motor that can help you manage your telescopic, scissor lift, or dual ram dump trailer; your wood or log splitter, snow plow, boat lift, tailgate lift, or wheelchair lift; your hydraulic winch or tow boom; or any of your other earth-moving or material handling needs.
Powerful Motor

Our motor's asynchronous three-phase action produces 3 HP with a max relief pressure of 3200 psi to easily lift your load.

Superior Flow Rate

This pump displaces 1.1 cc at 2850 rpm for an 0.83 gpm flow rate, ensuring fast action with strong power and little noise for any application.

Strong Reservoir

The high-quality 2 gallon (8.5 qt. or 8L) tank is made from premium plastic specially engineered to avoid cracks and leaks, keeping your machine stable and cool during heavy-duty jobs.
| | | |
| --- | --- | --- |
| Forklift | Lifting Platform | Dump Trailer and More |
Specifications
Material: Steel, Aluminum, Plastic
Color: Chrome, White
Dimensions: 25.6 x 7.5 x 7.1 in. (65x19x18 cm)
Mode: Single-Acting
Port: M18
Max. Displacement: 1.1 cc
Max. Flow Rate: 0.83 gpm (3.1 L/min)
Max. Relief Pressure: 3200 psi (22 MPa)
Max. Speed: 2850 rpm
Rated Motor Power: 3 hp (2.2 kW)
Motor Voltage: 12V DC
Reservoir: 8.5 qt. (2 gal. or 8 L)
Net Weight: 27.6 lb. (12.5 kg)
Warranty: 1 Year
Package List
1 x Single-Acting Hydraulic Pump
1 x 14'9" Pendant Control
1 x SAE #6 Fitting
1 x Instructions