Features:
JEEP APPLICATIONS: 2006-2010 Jeep Commander, 2007-2014 Jeep Wrangler, 1999-2010 Jeep Grand Cherokee
5x5 WHEEL SPACER PARAMETER: Set of 4. Thickness: 1.5", Bolt Pattern: 5x5" to 5x5", Center Bore: 71.5mm, Thread Pinch: 1/2".
HUB CENTRIC DESIGN ensures perfect fitment and accurate wheel alignment. The 71.5mm bore ensures a tight fit on the Jeep hub. And the 71.5mm wheel-centric lip functions as an extension of the hub, giving your vehicle a more aggressive stance and allows for better handling characteristics. 
MANUFACTURING: CNC Machined to exact specifications from Aerospace 6061-T6 Billet Aluminum. Undergoes anodizing process to make it corrosion resistant. Includes pre-installed heat-treated 10.9-grade studs to improve safety.
PRODUCT BENEFITS: Improve wheel and tire spacing in the fender. Better handling & increased safety. Fix brake caliper clearance issues. Add inner fender and suspension clearance.
5x5" (5x127mm) to 5x5" (5x127mm) PCD (Vehicle/ Wheel Bolt Pattern), SAE 1/2"-20 Thread Pitch (34 ± 0.3 mm Thread Length), 2.81" (71.5mm) Hub Bore, 4pcs 1.5"
ORION MOTOR TECH WHEEL SPACERS will widen your car's wheelbase, improving grip, handling, and precision. Developed in a special aluminum alloy through an innovative forging technology, afterward, they are wrought with a CNC machine (computer numerical control) to obtain the perfect coplanar surface. They are heat-treated to increase the mechanical resistance and next they are anodized to get oxidation protection. The wheel spacers increased the track improving the driving precision.
PACKAGE INCLUDES:
4 x hub centric wheel spacers (1.5" per unit)
1 x user manual.
PLEASE MAKE SURE:
1. Spacers' PCD/ Bolt Pattern 5x5" (5x127mm) = Your Vehicles' / Wheels'
2. Spacers' Thread Pitch 1/2"-20 = Your Vehicles' / Wheels'
3. Spacers' Thread Length 34 ± 0.3 mm >= Your Vehicles'
4. Spacers' Hub Bore 2.81" (71.5mm) = Your Vehicles'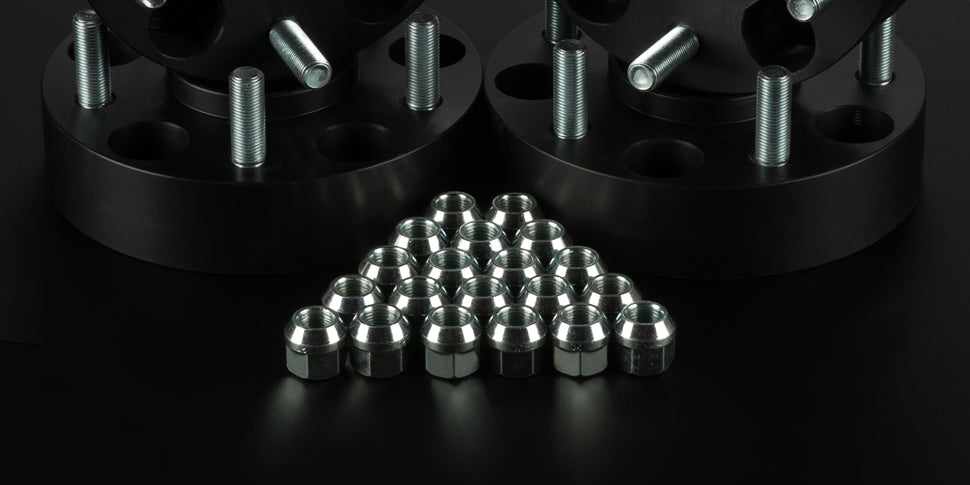 Check the recommended vehicle Compatibility/ Fitment below, do not risk the inappropriate vehicle.

Fitment
JK --- 2007-2018 Jeep Wrangler 4WD

JK --- 2007-2018 Jeep Wrangler Unlimited 4WD

JK --- 2007-2010 Jeep Wrangler Unlimited 2WD

XK --- 2006-2010 Jeep Commander

WJ --- 1999-2004 Jeep Grand Cherokee

WK​ --- 2005-2010 Jeep Grand Cherokee
NOT FIT JEEP WK2, YJ, TJ, ZJ
NOT FIT WK2 --- 2011-2018 Jeep Grand Cherokee

NOT FIT YJ --- 1987-1995 Jeep Wrangler

NOT FIT TJ --- 1997-2006 Jeep Wrangler

NOT FIT ZJ --- 1993-1998 Jeep Grand Cherokee/Grand Wagoneer
DETAILED FUNCTION OF WHEEL SPACERS:
​IMPROVE VEHICLE STABILITY:

 

_ wheel spacers widen your vehicle wheelbase, increasing stability and resistance to side roll-over. Added stability provides extra control for experienced riders and an additional margin of safety for younger or less experienced riders.

INCREASE TRACTION:

 

_ wheel spacers increase tire to frame clearance allowing installation of wider wheels and high-traction mud, rock, or snow tires.
ADVANTAGES OF ORION'S WHEEL SPACERS:
FORGED 6061-T6 ALUMINUM:

 

_ widely known for strength and lightweight, this premium material is ensured to withstand even the most extreme environments

EASY BOLT-ON INSTALLATION:

 

_ simply bolt the wheel spacer/adapter to your hub, then bolt your wheel to the spacer. No vehicle modification required

10.9 GRADE HARDENED BOLTS:

 

_ forged, heat-treated and hardened 10.9 (SAE Grade 8) wheel bolts deliver strength and corrosion resistance
IMPORTANT NOTES:
Professional installation recommended. Alignment is necessary after installation, this will prevent any wobble and vibration from occurring. Avoid an impact wrench; improper usage may cause lug nuts/bolts to break or loosen while driving, it will take potentially accident or injury. Make sure you get 6-8 turns before tightening. Retorque all lug nuts/bolts after 25-50 miles of driving, then again 1-2,000 miles. The back of the adapter must sit flush against the vehicle's hub. No rust on the inner of hub and wheel while installing the Hub centric wheel spacers. If the studs do pass the face of the adapter, you will need to grind/cut them shorter. (This only applies to 1.5" adapters & smaller).