Features
23 PIECE SET: This Orion Motor Tech pneumatic brake caliper wind back tool set includes an air-powered compressor, 22 disc adapters, 2 brake hangers, and a pair of gloves to easily, quickly, and securely finish the job; keep your tools in the heavy-duty blow molded case for easy organization, storage, and transportation between jobs
EASY OPERATION: Choose the drive key you need and attach it to the pneumatic compression tool's magnetic pad, then connect the tool to your brake's air inlet, press the release button and turn the rotating lever clockwise or counterclockwise to effortlessly repair or readjust your brakes
UNIVERSAL COMPATIBILITY: This automotive tool kit includes a large array of adapters to fit most vehicles, including hundreds of American, Japanese, and European models; see below for a full list of compatible models
BUILT TO LAST: The high quality pneumatic compressor's blackened aluminum alloy body and sandblasted #45 carbon steel disc adapters ensure long lasting performance and corrosion resistance
1 YEAR WARRANTY: Service your brakes today with your peace of mind assured by this wind back tool kit's strong 1 year warranty and Orion Motor Tech's usual friendly 24/7 customer service

Are your brakes starting to squeak and stick and it's time to service them?
Orion Motor Tech's 23 piece pneumatic brake caliper compression tool kit will help you get the job done right! Service your brakes and rotate your pistons back into their calipers without damaging them or the boot. This brake service kit comes with an air-powered compressor tool and 22 drive key disc adapters to help you with most domestic and imported vehicles. Precision crafted from high quality 45# steel for optimal strength and durability, each fitting is sandblasted for long-lasting wear and corrosion resistance. With its blackened aluminum body, the pneumatic tool provides durable and dependable service. Our automotive tool kit includes a pair of gloves for safe operation and two caliper hooks to hold your calipers out of the way during maintenance so you can finish the job easier and faster.
Whether you're just a DIY beginner or an experienced mechanic, you'll find these tools and their instructions helpful in getting your work done more efficiently!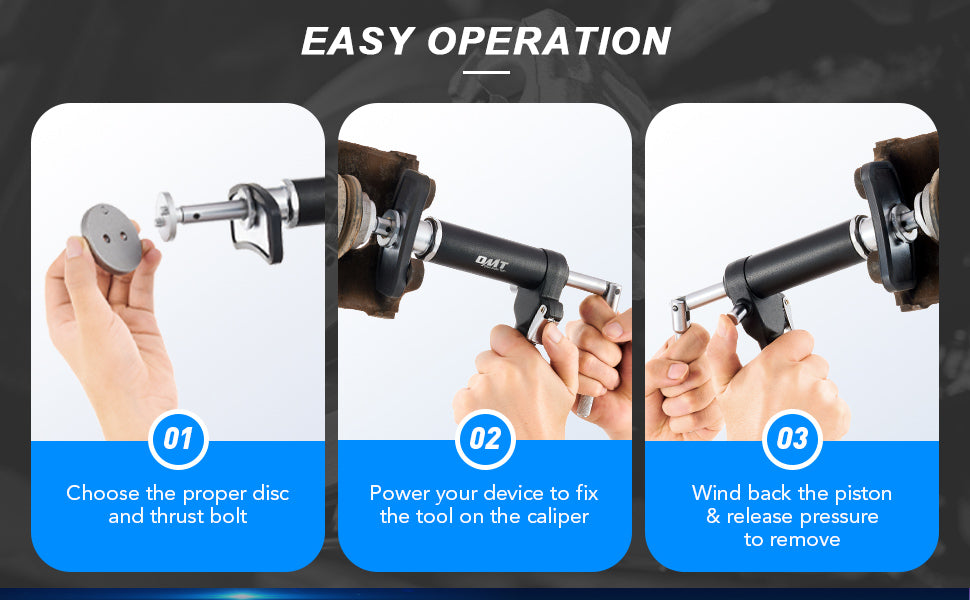 #0 General Motors
#2 Citroen XM & Xantia
#3 Alfa Romeo, Audi, Citroën, Dacia, Fiat, Honda, Mercedes, Nissan, Peugeot, Renault, Seat, Skoda, Suzuki, VW
#4 Jaguar, Renault
#5 Mazda 323/626, Toyota(Celica, Corolla GT, MR2)
#6 Hyundai, Opel, Toyota, Vauxhall
#7 Ford, Mazda, Nissan
#8 GM, Opel, Vauxhall, GM
#9 GM, Opel, Vauxhall, GM
#A Renault (R21, Laguna)
#B1 Ford
#B2 Ford, Iveco
#B3 BMW
#B4 BMW
#B5 Honda, Mini
#E Honda, Mazda
#F Fiat, Mitsubishi, Opel, Toyota, Vauxhall
#K Citroën
#K1 Citroën
#M Citroën, Ford, Mazda, Nissan, Opel, Renault, Saab, Volvo
#N Alfa Romeo, Audi, Fiat, Lancia, VW
#W Ford, Lancia, Renault, Volvo, VW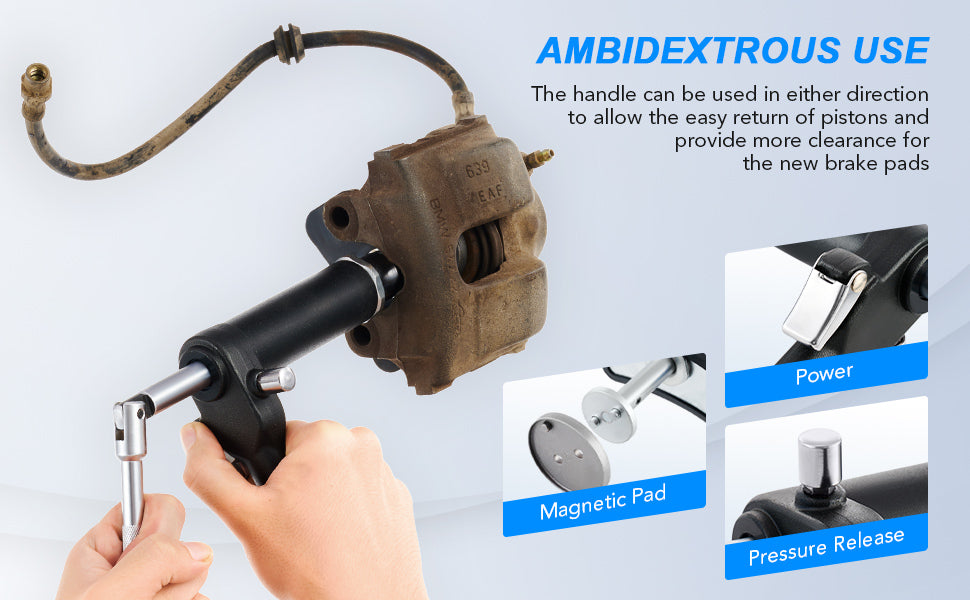 High-Carbon Steel

This kit is constructed from structural-grade 45# steel to offer outstanding strength and durability.

Sandblasted Surface

Each part has been sandblasted to smooth its surfaces, minimize corrosion, and provide superior longevity.

Precision Engineering

Highly precise forging and molding ensures that these parts will work safely and efficiently with your brake pistons.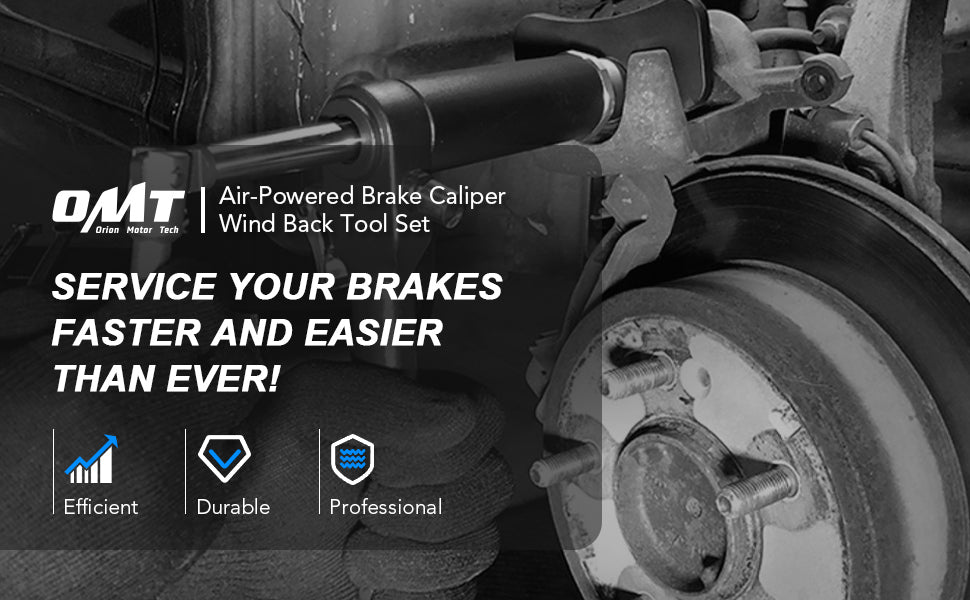 Specifications
Material: Aluminum, 45# Steel
Color: Black, Silver
Package Dimensions: 15.4 x 11.8 x 3.4 in. (39x30x8.5 cm)
Net Weight: 7.1 lb. (3.23 kg)
Warranty: 1 Year
Package List
1 x Pneumatic Compressor Tool
22 x Drive Keys
1 x Storage Case
1 x Pair of Work Gloves
2 x Brake Caliper Hangers
1 x Instructions